2018 Festival News:
The festival  welcomes in its 2018 edition the experienced animator Tim Allen, who has worked on numerous productions in Europe, England and the United States, including; Isle of Dogs (2018), Fantastic Mr. Fox (2009), Corpse Bride (2005) and the Polish Oscar-winning short film, Peter and the Wolf (2006).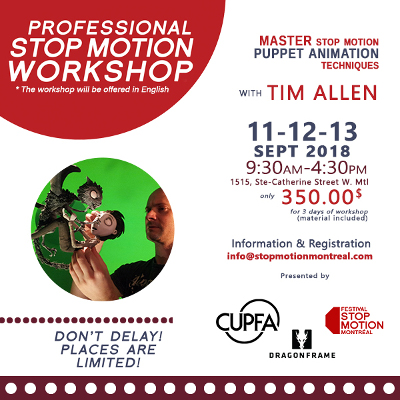 Call for entries (Archive):

Eligibility: Only films produced after January 1st, 2016, which are less than 30 minutes, and use stop motion animation and pixilation techniques are eligible for selection
NOTE:   Cut-out animation, time lapse photography videos (videos created through the photographing of live-action movement at scheduled or sporadic intervals) and videos made through editing live-action footage to produce a "stop motion" effect are not eligible for the Festival.
Competition Categories:
Professional Films : Films, television shows and ads produced with private funding. A producer who is not the director of the project is involved in editorial and creative decisions. The director of the project does not have full crea

tive control of their work.

Independent Films : Films produced in an indepe

ndent setting with or without financial assistance. The director is the person who initiated the project and is the driving force behind it. They have full creative control of their work.

Emerging talent : Films made in school, as part of a course or a workshop.
 
New category in the short film competition - Family friendly films 
The Festival wanted to highlight the unique style and charm of productions aimed at young audiences, which is why in 2018 a statue will be awarded to one of the films screened in the Discovery Program.  T his category is open to all types of productions: professional, independent and emerging talent. This category presents works whose themes and values appeal more specifically to a young audience. The same film can therefore be selected for one of the three other film competition categories as well as for the Discovery screening.
Created in 2009 by Érik Goulet, a stop motion animation teacher at Concordia University, the Festival is first created under the name of Montreal Stop Motion Film Festival (MSMFF). The festival  gathers professionals and independent creators alike as well as enthusiasts and fans of all ages for a truly unique cinematic experience.