ANIMAC International Animation Film Festival of Catalonia is a not-for-profit cultural event organised by Lleida City Council and supported by the Department of Culture of the Government of Catalonia and other public and private bodies.
Animac is a non-competitive film festival aimed at artists who use animation as a tool for personal expression. Its 23rd edition will be held in the city of Lleida (Catalonia - Spain) from 21 to 24 February 2019.
Festival Coverage:
2019 Festival Poster
Carles Porta has worked out xtures and materials in an image that celebrates stop motion animation.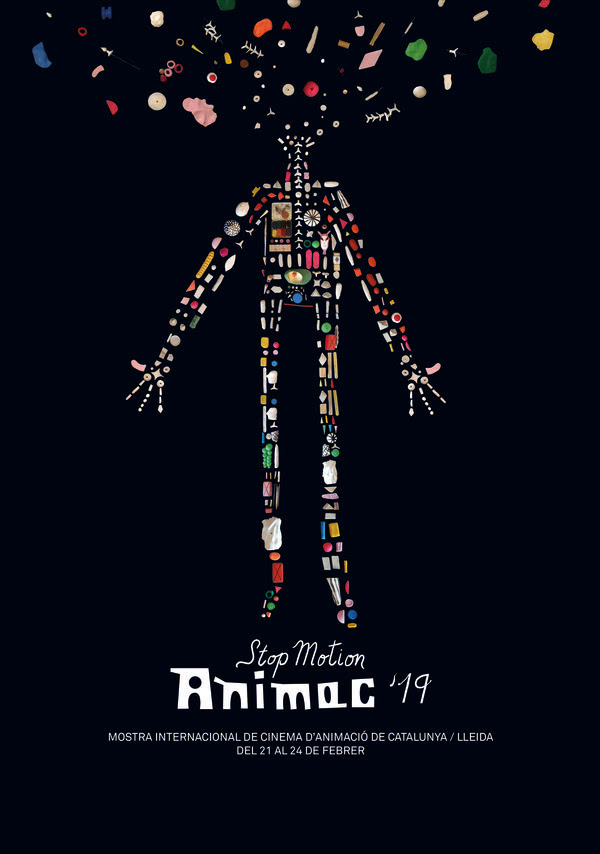 This year the Animac theme will be stop motion, so it was important to make a poster in volume. I  firstt hought of Gulliver, surrounded by tiny people, unconscious on the beach, I also thought of the Golem, then a group portrait.  I imagined a futuristic city made out of recycled material, a superhero watching twilight sitting on the edge of a roof, and at one point a sand dune covered the city, an amorphous being with shell eyes. But none of this had just worked: on a black velvet cloth, I started to combine the remains of all these failed projects; first some characters that had no story to explain, a ghost, a papagueno, a vampire dragée and a ballerina. Finally and definitely, on the study table appeared the body and limbs of a being made of many different materials; he was so over-excited by all the possibilities of being, that his head exploded. "
Archive: Call for entries:
Eligibility criteria:
A film can be submitted by its national or international distributors, producers and/or filmmakers.
Each participant can enter a unlimited number of films, provided they comply with the applicable requisites.
There are no limits on length or restrictions on the year of production of the film.
The films, if selected, must be available in a screening copy in any of the following formats: HD QuickTime or mp4 codec h264, BluRay, DCP.
The Shorts 1, 2, 3 and 4 and Little Animac sessions are eligible for the Audience Award for Animac best short and for the Audience Award for Little Animac best short, respectively.
The deadline for submissions is 31 October 2018 and there is no submission fee.
After reading the relevant terms and condition, you may complete the registration form online.