2019 Call for Entries:

The Sommets du cinéma d'animation are an international festival dedicated to animation in all its forms, from heritage films to new media by way of current production. Over five days, Montreal moves to the rhythms of animation! A unique event in Quebec, the festival celebrates an art form that has long brought international recognition to Quebec and to Canada.
Awards
The Sommets Grand Prix
The Sommets Special Prize of the Jury
The Public Award
The Guy-L.-Coté Award for the best animated Canadian film
The Sommets Award for the Best Very Short Film
Student Competition Award
Entry form and festival regulations
Deadline: 3 September 2019
2018 Festival Poster ( 21-25/11/18)

The Sommets 2018 poster was created by the young Montreal-based animation artist Raymond Caplin. Raymond is a very talented illustrator and an animator who loves creating animated films. He enjoys exploring various artistic media and wants to pursue a career as an animator. He made five films under Wapikoni mobile's framework. His first film, In Your Heart, was awarded Best Experimental Film at the Winnipeg Aboriginal Film Festival as well as the Best Animated Film at the Arlington International Film Festival. In 2017, Raymond, a member of the Mi'kmaq nation, participated in the Cinémathèque québécoise animation residency. The Sommets 2018 trailer will be made by Raymond.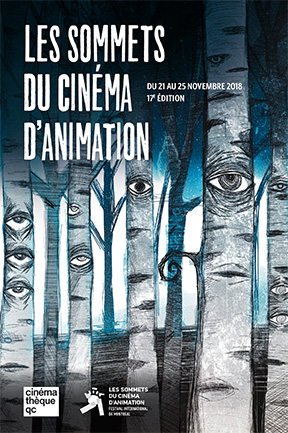 The next Sommets du cinéma d'animation will be held from December 3rd to 8th 2019 at the Cinémathèque Québécoise in Montreal. The Sommets du cinéma d'animation are organized by the Cinémathèque québécoise in Montreal.