Some habits die hard. Here's what happened at the 2015 Animafest, Zagreb.
One may safely describe the 2015 edition of Animafest, Zagreb as "bizarre with a human face". Never avert to experimentation, but also trying to find a locale of human touch, the 25th  Animafest seemed equally committed to give the podium to topics, films and situations that challenge everyday perception, while at the same time trying to stay close to the human predicament.
After all, Lewis Carroll's Alice in Wonderland, the main theme for this year's festival, may have a little bit of Disney and a (more substantial) bit of Svankmajer in its pocket. Michel Ocelot, awarded with the festival's Lifetime Achievement Award, can be described as neither of those guys.
 It still helps, though, to watch his early cut-out work, defined as experimental when first came out, alongside Don Hertzfeldt's equally 'anachronistic' World of Tomorrow, which took home The Golden Zagreb Award for creativity and artistic achievement.
 This was immediately counterbalanced by the short jury's decision (Chris Landreth, Leslie Felperin, Jayne Pilling, Veljko Popovic, Yumi Young) to give the Grand Prix to a most 'conventional' short in its both storytelling and visuals -but touching its innermost  basic emotions (in the same that Chris Landreth envisioned facial muscles to represent primary feelings in his Animafest lecture).
We can't live without Cosmos by Konstantin Bronzit, the story of two astronaut friends preparing for their big trip in space, was a well-worthy winner, and a film that could touch even the less most hardcore fans of bizarre animation.
Less bizarre, but still made in the manner of Robert Altman's Short Cuts and P.T. Anderson's Magnolia, Meanwhile by Stephen McNally (UK) won the Grand Prix "Dusan Vukotic" for Best Student Film (jury: Max Hattler, Vassilis Kroustallis, Branka Benčić) .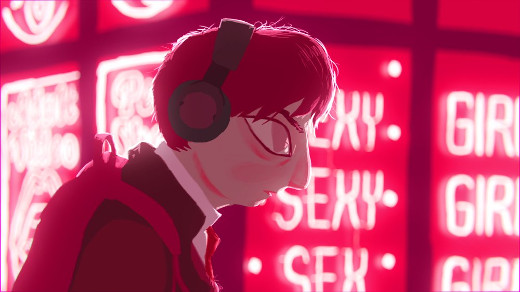 Tomek Ducki only reworked (a little bit) the already bizarre story of the Fall from Paradise to make an underground party for the sinners, according to the jury, and have his Paradise Awaits the best commissioned film of the festival.
Giannalberto Bendazzi, a speaker for Animafest Scanner (a welcome effort to bring along animation theorists/historians and artists), also contributed to the bizarre section by comparing the animation historian to the anthropologist, who seeks information and approval from the most curious of resources.
 Experimental artist Max Hattler can surely follow with his reworking of Foucault's heterotopia in animation (in the same symposium) as a space permeable but still closed enough to allow for only the curious few.
But even the most bizarre experience can be followed by the friendliest attitude at Kino Europa, the festival's main venue, where you can always talk freely with Michel Ocelot, Theodore Ushev (who took home a Special Mention for his Sonámbulo short),  Chris Landreth; and, you can also have Igor Prassel, artistic director of Animateka, coordinate your discussion in the same manner as he coordinates his Q&A competition sections.
A matter to notice: Animafest Zagreb  leaves ample time for its discussion section, and the festival programme follows accordingly. That means fewer special programmes for the 6-day festival, which are being integrated though to the main festival theme. Animafest needs to carry a sense of totality in its events.
Animafest counts on the human element. No big deals and market pitches - Bendazzi, after all, is adamant to insist that animation is art, not an industry- yet talks and efforts to understand where animation goes, the multimedia environment and the gap between the old (including old Zagreb school) and the young lions were also part of the festival search.
Croatian animation is on the rise again, and Zagreb Film as well as Bonobostudio do their best to present this work to the festival audiences. Still, the film that won the Best Croatian Film was made by an Estonian turned into a resident Croatian.
Chintis Lundgren won the prize with her odd couple movie of My Life With Herman H. Rott.
 It is to wonder that Animafest had insisted for so long on its separation of short and feature animation editions each subsequent year. The merging of the two editions into a single year that Animafest's artistic director Daniel Suljic brought forward surely enriched its programme, and facilitated the flow between the two formats.
Not all of the features had their festival premiere at Animafest, but the 40-minute Croatian feature Unknown Energies, Unidentified Emotions by Dalibor Baric, a black satire on mind, capital state control and paranormal phenomena fitted the festival spirit -even though its literary sources could have been more expanded to fulfil their potential.
The jury for the feature films (Jung Henin, Siniša Juričić and Mihai Mitrica) decided that a film that can combine both bizarre imagery with welcome messages could do the trick.
The Boy and the World by Alê Abreu won (predictably) the competition, leaving the South Korean The Fake (Sang-ho Yeon) with a Jury special mention.  View all festival winners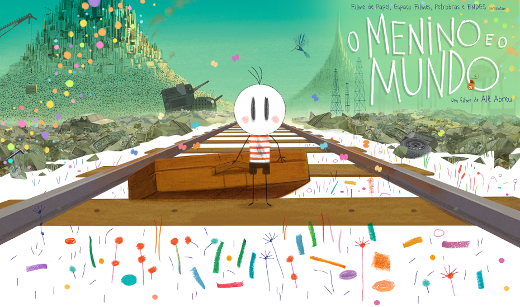 The Boy and the World
Animafest trailer by Petra Zlonoga tells the story of a city where bikers can be along with pedestrians in the same pavement: there is a momentary threat when you feel the bike approaching you, but there is an always a turning left/right to avoid collision.
Films and festival as a whole in Zagreb are quick to follow: they can throw you many bizarre films and events, but they do know when to avoid collision -or, offer a much friendly hand.
Vassilis Kroustallis