The constructivist Gloria Victoria by Theodore Ushev won the prize at Fantoche Festival 2013. See all the winners.
With more than 34.000 visitors in our cinemas, exhibitions, talks  Fantoche  festival in Baden, Switzerland (3-8 Sep 2013) came to a close with its award ceremony. Bulgaria-born animator Theodor Ushev (Nightingales in December, Lipsett Diaries) was the big winner at this year's festival. His new short, Gloria Victoria, references Russian constructivist elements  in his 3D animation film to Shostakovich's Symphony No. 7 "Invasion" themeThe High-Risk prize went to the Japanese Yoriko Mizushire for Futon. Michael Frei (photo) received the prize for best Swiss film with his Plug & Play.
 The Cannes-awarded Matúš Vizár won the Best Story award for Pandy, whereas Elli Vuorinen (who made The Tongueling) was awarded (best sound) for her "Sock Skewer Street 8".
The complete award list:
International Competition:
Best Film: "Gloria Victoria" | Theodore Ushev | CA 2013
High Risk: "Futon" | Yoriko Mizushiri | JP 2012
New Talent: "Ziegenort" | Tomasz Popakul | PL 2013
Best Sound: "Sock Skewer Street 8" | Elli Vuorinen | FI 2013
Best Visual: "Bath" | Tomeck Ducki | PL/GB 2013
Best Story: "Pandy" | Matus Vizar | SQ/CZ 2013
NAB Audience Award: "Pandy" | Matúš Vizár | SQ/CZ 2013
Swiss Competiton:
Best Swiss: "Plug & Play" | Michael Frei | CH 2013
High Swiss Risk: "Washed Ashore" | Jonas Ott | NL 2012
Audience Award: "The Kiosk" | Anete Melece | CH 2013
Best Kids:
Best Kids: "Hedgehogs and the City" | Evalds Lacis | LV 2013
Kids Audience Award: "Hedgehogs and the City" | Evalds Lacis | LV 2013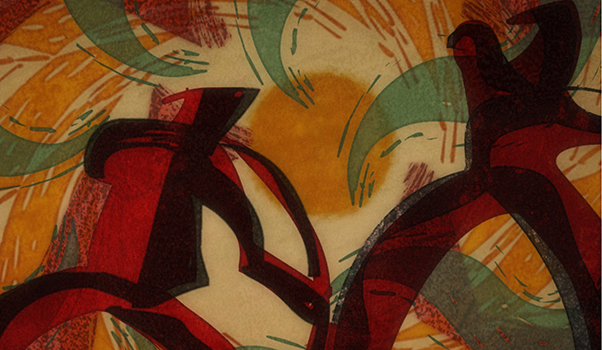 Related Articles

Fantoche Teases With 2018 Selection Videos
Have a taste of all selected films programmed for the 2018...

2018 Fest Anča Festival Report: Time To Talk On Time
Uri and Michelle Kranot, Milos Tomić, Ivana Sebestova,...