Selection results in the International Competition have been revealed for the ITFS, Stuttgart, as well as preliminary programme highlights.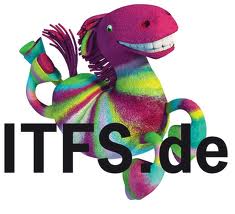 The 21st International Festival of Animated Film (ITFS, 22-27 April 2014) and the FMX 2014, Conference on Animation, Effects, Games and Transmedia, present all cultural, economic and academic aspects of animation. More than 1,000 of the best and latest animated films will be screened during the festival.
The always strong International Competition of ITFS features this year Chris Landreth (who's expected to attend) with his Subconscious Password.
The Oscar-nominated short film "Mr. Hublot" by Laurent Witz and Alexandre Espigare is included, as well as Hollow Land by Michelle and Uri Kranot [interview with the filmmakers].
The Berlin-awarded My Own Personal Moose (Leonid Shmelkov) competes at ITFS, as well as the new Bill Plympton short, Drunker than Skunk.
You'll also find the Cesar-nominated Women's Letters by Augusto Zanovello on the WWI, a theme which has its own separate retrospective at the 2014 ITFS.
 Constantin Film will present the 3D European motion-capture movie Tarzan .
 Laika Studio (Coraline, ParaNorman) will also be present  with "The Boxtrolls" (no further details have been announced), and Studio 100 announced their attendance.
Israel is the guest country of this year's ITFS, and filmmaker Tsvika Oren presents the highlights of the Israeli short film production.
The Danish "grandmaster of animation" Jannik Hastrup presents the animation studio Tegnefilm, while Vibeke Sorensen from the Nanyang University Singapore curates three programmes of "abstract experimental animation", and there will be the Animation Co-production Forum for new projects from the Arab world.
 Max Howard (former president of Warner Bros. Feature Animation and vice president of Walt Disney Feature Animation) and Emmy winner Eric Shaw, both in this year's jury are expected to attend the festival and the workshops organized.
The Animation Production Day, an event within the framework of the FMX 2014 and ITFS 2014, will be held on April 24 and 25, 2014. As business platform for the international animation industry the APD gives international production companies the opportunity to present projects in the fields of animation and digital content.
Important industry prizes are the Animated Com Award (with partners like ADC Deutschland and Daimler AG), which is given for outstanding work in the areas of advertising, spatial communication, and technology as well as the German Screenplay Award, which aims to promote talented German authors and seeks to contribute to an improving quality of the contents of animated films.
Discover the full lineup of 2014 ITFS international competition. More at the ITFS website.
INTERNATIONAL COMPETITION
International Competition ITFS 2014
Films International Competition 1
Subconscious Password, Canada 2013, directed by Chris Landreth
I Love Hooligans, Netherlands 2013, directed by Jan-Dirk Bouw
Uit Huis (Leaving Home), Netherlands 2013, directed by Joost Lieuwma
Hollow Land, France 2013, directed by Uri Kranot, Michelle Kranot
Home, Great Britain 2012 directed by Luiz Stockler
Ephémère (Ephemeral), Schwitzerland 2013 directed by Sophie Haller
Lettres de femmes (Women's Letters), France 2013, directed by Augusto Zanovello
Harald, Germany 2013, directed by Moritz Schneider
Pommes Frites Netherlands 2013, directed by Balder Westein
Films Internationalen Competition 2
Canis, Spain 2013 directed by Marc Riba, Anna Solanas
Autour du lac (Around the Lake), Belgium2013, directed by Noemie Marsily, Carl Roosens
Cruise Patrol, Netherlands 2013, directed by Bobby de Groot, Arjan van Meerten
Padre (Father), Argentina 2013, directed by Santiago 'Bou' Grasso
Sonntag Null (Sunday Zero), Germany 2012, directed by Jochen Kuhn
Drunker than Skunk, USA 2013, directed by Bill Plympton
Toto, Poland 2013, directed by Zbigniew Czapla
Oduga (The Wound), Russia, directed by Annna Budanova,
Sun of a Beach, France 2013 directed by Arnaud Crillon, Alexandre Rey, Jinfeng Lin, Valentin Gasarian
Films Internationalen Competition 3
Brut (Brutus), Russia 2014, directed by Svetlana Filippova
The Obvious Child, Great Britain 2013, directed by Stephen Irwin
Jorka, Netherlands 2013 directed by Michiel Wesselius
Rob'n' Ron, Denmark 2013, directed by Peter Smith, Magnus Møller
Cargo Cult, France 2013, directed by Bastien Dubois
Ping Pong, Schwitzerland 2013, directed by Rafael Sommerhalder
Through the Hawthorn, Great Britain 2013, directed by Anna Benner, Pia Borg, Gemma Burditt
Мой личный лось (My Own Personal Moose), Russia 2013, directed by Leonid Shmelkov
Hund (Dog), Germany 2012, directed by Simon Schnellmann
Films Internationalen Competition 4
Aldar i seryj volk (Aldar and the Grey Wolf), Russia 2013, directed by Rim Sharafutdinov
The Hopper, Denmark, Germany 2012, directed by Alex Brüel Flagstad
Land, Japan 2013, directed by Masanobu Hiraoka
MeTube: August sings Carmen 'Habanera', Austria 2013, directed by Daniel Moshel
Mr Hublot, Luxembourg 2013, directed by Alexandre Espigares, Laurent Witz
Contrast, Germany 2013, directed by Carmen Büchner
The Hungry Corpse, Great Britain 2013, directed by Gergely Wootsch
Myosis, France 2013, directed by Emmanuel Asquier-Brassart,
Ricky Cometa, Guillaume Dousse, Adrien Gromelle
As Boys Grow, Netherlands 2013, directed by Charlotte van Ottenloo
I am Glad We Can be Honest about this, Germany 2013, directed by Alexander Gellner
Planètes après planètes (Planets after Planets), France 2013, directed by Titouan Bordeau
Films International Competition 5
Raging Balls of Steel Justice, Great Britain 2013, directed by Mike Mort
Nuisible (Pest), France 2013, directed by Bruno Mangyoku, Tom Haugomat
The Master's Voice : Caveirao, USA 2013 directed by Guilherme Marcondes
Sie so, Er so (She was Like, He was Like), Germany 2013, directed by Gregor Dashuber
Upstairs, Great Britain 2013, directed by Matthias Hoegg
Kick-Heart, Japan 2013, directed by Masaaki Yuasa
Phantom Limb, Great Britain 2013, directed by Alex Grigg
History of Pets, Netherlands 2013, directed by Kris Genijn
Related Articles

Kaputt, Psychonauts Win the 23rd ITFS Awards
All the winners of the 2016 Stuttgart Festival of Animated...

Animation Production Day, 28-29/4/16, Stuttgart: Call for Submissions
Submit your animation project in production to APD,...