An Estonian powerhouse of animation talents in the upcoming feature film.
There is a certain excitement when two, very talented animation directors work together. Estonians Kaspar Jancis (Marathon, Villa Antropoff) and Rino Uht (The Master) have proved that the reality in animation might be a little different, more surreal and at the same time, more relevant than we ever imagine.
Their common co-direction effort is now depicted in the family film, Morten on the Ship of Fools, a 80-minute animation feature produced by Nukufilm Studios in Tallinn, Telegael Studios in Ireland and Belgium's Grid VFX (Belgium). Nukufilm Studio dates back to 1957, and devotes itself tos stop-motion.
Recent short film masterpieces, like Ulo Pikkov's Body Memory [watch it here]  and Riho Unt's The Master [trailer]  come from the studio, which also produces children's series and commercials.
Morten on the Ship of Fools is based on Kaspar Jancis' own book and theater play,  which details the adventures of an 8-year-old boy, who dreams of becoming a sea captain like his father. When his toy boat becomes a real ship, he finds himself in a Kafkaesque world, in which real insects serve as his co-travellers, and cause him a lot of trouble.
In the film, Morten's mother has passed away, and Morten is taken  taken care of by the strict ballet-teacher Aunt Anna, who is more evil task-master than kind, surrogate Mother. Watch a very suggestive promo scene:
The film was pitched in 2011 Animafest regional pitching forum, with an initial budget of 3,5m Euros. Morten on the Ship of Fools will be part of the 2016 Cartoon Movie selected projects. Have a look at the top-notch production design, and the way the red-headed Morten is designed: curious, distinctive and always interesting to watch.
The film is voiced by Brendan Gleeson, Ciaran Hinds, Pauline McLynn, Jason Byrne, Tommy Tiernan and Neil Delamere, while Cian O'Dowd voices Morten.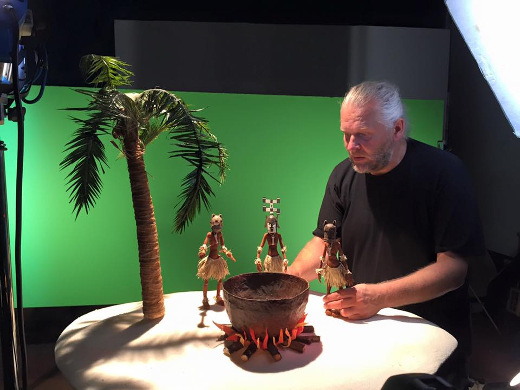 Riho Unt on the set of Morten (copyright: Nukufilm)
A 2017 release is expected. Read the full synopsis (spoilers alert).
Morten is a curious, 10-year old dreamer. His only family is his Father, Captain Viks who sails the seas on his ship, The Salamander. To save Morten's feelings, he tells Morten that his mother became a penguin but Morten knows she passed away. Morten is taken care of by the strict ballet-teacher Aunt Anna, who is more evil task-master than kind, surrogate Mother.
To soothe his bitter days, Morten plays with a toy boat with only insects for crew. One day, the unexpected happens - Morten is magically shrunk and awakes on his own toy boat! He is thrilled to be a Captain but it's not all he dreamed it would be, since the bugs on the ship are as big as he is and they eerily resemble adults from his 'real' world.
Foul weather is coming in the form of a flood in his Aunt's café and the toy ship is sinking. Through crazy and surreal adventures Morten saves the ship and insects and returns to the real world to happily reunite with his Father.
CREDITS
Morten on the Ship of Fools, 2017 (80', classical puppets)
Original format: English/Estonian
Script: Mike Horelick, Paul Risacher, Robin Lyons
Direction: Kaspar Jancis, Riho Unt
Camera: Ragnar Neljandi
Design: Kaspar Jancis (nukud-puppets), Riho Unt (sets)
Animation: Märt Kivi, Triin Sarapik-Kivi, Olga Bulgakova, Stina Tiigimäe
Music: Pierre Yves Drapeau
Puppets and decoration: Heigo Eeriksoo, Taivo Müürsepp, Indrek Kuuse, Ene Mellow, Külli Jaama, Anne Kabel, Triin Paumer, Stiina Tiigimäe, Katariina Aule, Margrethe Danielsen,
Decoration prepatarion: Mait Erik, Roman Kuznetsov
CGI composer: Raivo Möllits, Villem Tammaru
Digital postproduction: Grid VFX (Belgium)
Make up: Anu-Laura Tuttelberg, Margrethe Danielsen
Light: Vladimir Voronov
Assistant: Sergei Kibus
Cast: Cian O'Dowd, Susie Power, Brendan Gleeson, Pauline McLynn, Ciaran Hinds, Tommy Tiernan, Michael McElhatton, Jason Byrne, Mario Rosenstock, Neil Delamere
Producer: Kerdi Oengo, Arvo Nuut, Andrus Raudsalu
Production assistant: Maret Reismann
Produced by: Nukufilm OÜ, Telegael (Ireland), Grid VFX (Belgium)