A deeply felt film about one's own family and settling accounts with the past. Watch David Jansen's Daewit.
A production of Fabian & Fred, the short film Däwit/ Daewit by David Jansen has a boy (Däwit) rescued from his violent father, which grows up far away from his family among wolves.
He is released into a world in which he grows from a child into a man weary of life. Embarking on a mysterious journey to find his own identity, he encounters great hardships but ultimately finds peace in forgiveness.
Director David Jansen (b. 1981), a graduate of the Academy of Media Arts Cologne, found inspiration for his film in the expressionistic style of Belgian graphic designer and illustrator Frans Masereel and his woodcuts. The result is a strong (and equally tender) film that resembles more Wim Wenders' Wings of Desire than Truffaut's Wild Child.
Jansen and his co-writer, Sophie Biesenbach, are not interested that much in the perennial question of nature vs. nurture, but they do invest in city alienation, family abuse and fallen angels that can help tormented souls. Film aesthetics (of woodcut style) constantly remind of the fact that traces of the past (watch the thick, accompanying shadows) come in very many layers that need to unravel before finally being settled once and all.
This personal journey through sea, air, woods and time is executed with precision, imagination but mostly a deep, humane feeling for its main character and the burden he has to carry through, which culminates in a beautifully set process of reconciliation.
First premiered at the 2015 Berlin Film Festival (Berlinale Shorts), Daewit has amassed 17 awards, and has been screened in more than 200 international festivals around the world.
CREDITS:
Director: David Jansen
Producer: Fabian Driehorst
Script & animation: David Jansen & Sophie Biesenbach
Sound design/Composer: Marcus Zilz
Production company: Fabian&Fred GmbH
Making-of: Fabian&Fred, Enno Endlicher
Funding: Film- und Medienstiftung NRW
Additional Funding: Filmförderung Hamburg/Schleswig-Holstein
Distribution: KurzFilmAgentur, Hamburg
Television: ARTE
Fb: https://www.facebook.com/daewit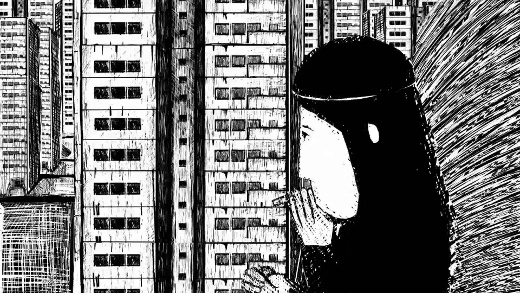 Däwit/ Daewit
Related Articles

Catherine by Britt Raes
 Having a pet is not the easiest thing in the world. But...

Smashing Holidays and A Happy New Year by Nadja Van Dijk
Here's how a little girl gets her Xmas present by Dutch...