Thursday, 26 December 2013 10:21
A new interesting animation feature comes from France: Jack and The Cuckoo-Clock Heart.
Edinburgh, late 19th century. Little Jack is born on a day so cold that his heart remains frozen. In her house on top of a big hill, Madeleine the midwife replaces the defective organ with a cuckoo-clock.
It will work, she warns him, as long as Jack doesn't touch the hands of the clock, doesn't lose his temper and, above all, doesn't fall in love. But Jack's encounter with a fiery-eyed little girl singing on a street corner and his decision to chase after her across Europe to Andalusia test the resistance of his makeshift heart to breaking point...
Based on Mathias Malzieu's 2011 novel, Jack and The Cuckoo-Clock Heart is produced by the creative team behind the 2011 minor French hit, A Monster in Paris, which again tells the story of an outcast in past times.
Yet the decision to put a British locale for Jack and The Cuckoo-Clock Heart somehow makes the film more focused on the dramatic story itself, and not on the Paris beautiful distractions.
The film is directed by Stéphane Berla and Mathias Malzieu. Watch the French trailer below, which seems at the same time attractive and poignant:
Dim lights Embed Embed this video on your site
Malzieu (also a composer) contributes the film's retro-style musical numbers. French star Jean Rochefort, the Almodovar muse Rossy de Palma and Olivia Ruiz and Malzieu himself voice the main characters.
Talking to Variety, EuropaCorp representative (one of the production companies behind the film) Marie Laure Montironi envisions the film "as a mainstream family film that's luminous, smart and entertaining". The film has already been sold in many European countries.
Jack and The Cuckoo-Clock Heart is produced by Europacorp, France 3, Ile de France, Canal+, CinéCinéma, Walking The Dog and Ufilm, and is slated for a 5 February 2014 release in French theaters.
See the poster: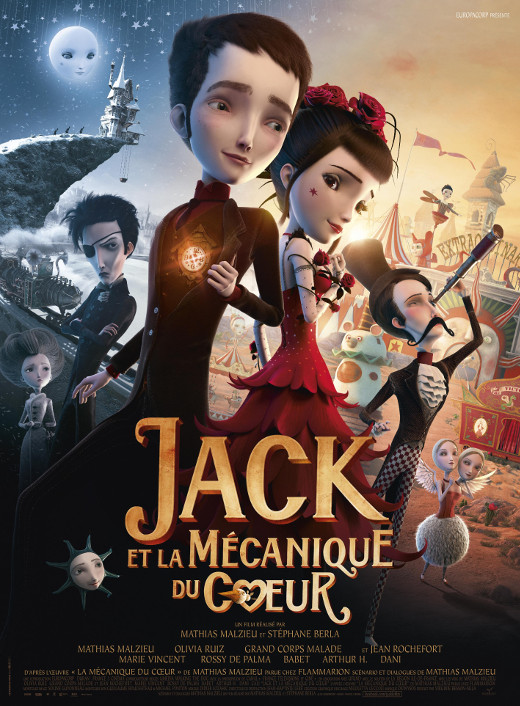 <![if gt IE 6]>
<![endif]>
Last Updated on Saturday, 19 April 2014 06:58