Saturday, 12 April 2014 10:45
Watch the dark but enchanting English trailer for the puppet feature Little from the Fish Shop by Jan Balej.
Hans Christian Andersen's The Little Mermaid is now being adapted into a very different treatment from its 1989 Disney feature - and in stop-motion, nevertheless.
The Czech artists and animator Jan Balej directs and co-writes the script (along with Ivan Arsenjev) for the new, 75-minute animated feature.
Balej's version is set in the background of a harbor city: as he notes, the setting brings the contrast of purity and innocence with the filth, evil and the dark side of our time.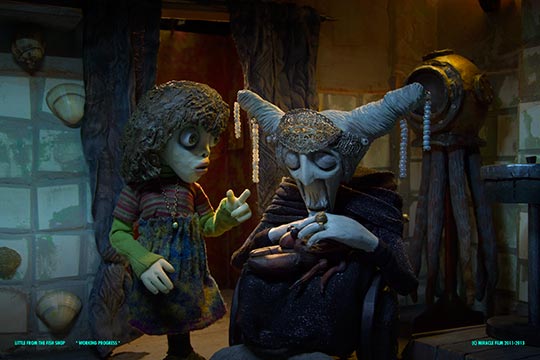 The synopsis has the voice of the ocean (accompanied by a fish orchestra) telling a story of Little -- the Sea King's daughter. They left the plundered waters of their home to live among humans.
They now lead a strenuous life in a somber fish shop in the heart of the harbor district where one day, Little comes to meet a handsome, confident and somewhat fresh young man -- J.J. From this moment on, the life of Little is to take a sea change.
Dim lights Embed Embed this video on your site
The first trailer is both powerful and enchanting, appealing to fantasies and fears long suppressed with highly atmospheric violin music.
The grainy element that puppet animation brings secures that this feature is not a light one on kids (but not prohibitive either to 12+ viewers), and makes the triangular-faced princess suddenly more earthly and tangible -as if Little was a present-day immigrant.
Jan Balej states that most of the feature will involve puppet animation, yet a distinct process of 2D/3D computer animation will also be utilized (in the scenes involving the underwater world or sky clouds).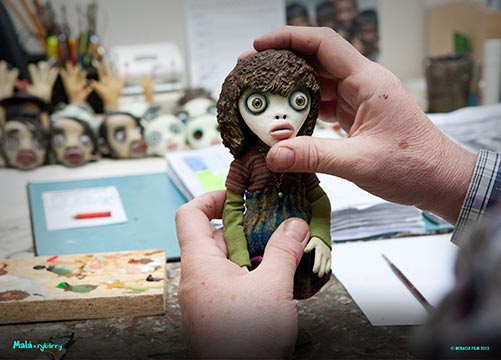 Most of the sets will also be made non-digitally; digitized sets will also be reconstructed via photographs of the individual elements from different angles, and then reconstructed to form a completely new environment.
Miracle Film, headed by Nelly Jenčíková, the delegate producer of the film, co-produces Little from the Fish Shop, along with the French company Les Trois Ours (Olivier Catherin) and the Slovak company MARLEN Media Group (Marián Ferko).
The film is currently scheduled for a 2015 festival release. early June 2015 release in Czech theatres, to be followed by festival appearances.
An exhibition is currently under way in Prague (Malostranská beseda). It opened on 2 April 2015 to coincide with the 210th birth anniversary of Hans Christian Andersen, and will include more than 70 original puppets, entire film sets, video mapping and many other artifacts.
The exhibition will be open till 28 June 2015.
Official Facebook page: https://www.facebook.com/malazrybarny and https://www.facebook.com/littlefromthefishshop.
<![if gt IE 6]>
<![endif]>
Last Updated on Monday, 06 April 2015 17:00