Tuesday, 22 April 2014 16:33
Discover the three animated films that have been included at the 2014 Cannes festival and the Directors' Fortnight.
The avant-garde section of Cannes festival, the Directors' Fortnight (Quinzaine des Réalisateurs) was created in the wake of the events of May '68. It seeks to discover filmmakers and films that challenge common perceptions.
3 animated shorts are included in the 2014 selection.
8 Bullets (8 Balles) by Frank Ternier tells the story of a vengeance. Gabriel, a man in his thirties, is immersed in his memories: his daughter was shot in the leg, and his wife died after a hostage situation. He is now a prisoner of painful memories that lead him astray.
8 Bullets is produced by L'Image d' Après.
Jutra is a Canadian animated documentary by Marie-Josée Saint-Pierre. Combining archival material and animated sequences, Saint-Pierre has created a cinematic and clever portrait of the man who gave us Mon oncle Antoine, filmmaker Claude Jutra.
By means of home movies, interview and other archival material, this film seeks to understand the causes that led the famous filmmaker to commit suicide.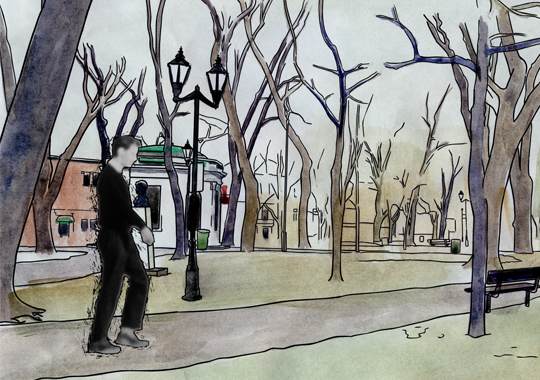 The film is produced by Marie-Josée St-Pierre (MJSTP films), in co-production with the National Film Board of Canada (Marc Bertrand).
Watch the trailer:
Man on the Chair (6') by South Korean animator Dahee Yeong details, according to its director, a man tormented and constantly doubts his very own existence.
The animated short has also been selected to compete to the Annecy 2014 festival, and is produced by Sacrebleu Productions.
A live-action short, Heartless by Animage artistic director Nara Normande and Tião Tiao is also included at the Cannes Directors' Fortnight.
View the complete lineup. Cannes Fortnight runs from 15-25 May 2014.
<![if gt IE 6]>
<![endif]>
Last Updated on Tuesday, 13 May 2014 10:11