Tuesday, 26 August 2014 14:35
Anima 2015 is now launching call for entries.
The 34th edition of Anima, Brussels Cartoon and Animated Film Festival, will take place from 13 to 22 Ferbuary 2015 in Brussels, Belgium.
Anima comprises eight official categories and a panorama category.
More specificall, the official categories are the following:
Short-film previews;

Student films;

Children's short films;

Music videos and Commercials (non-competitive);

Feature-film previews;

Feature-film for children previews;

Belgian shorts;

Short-film previews 'The Animation Night'.
The above categories include short animated films made after 30 June 2013 regardless of their geographic origin.
Amongst these categories, some shorts will constitute an international competition and some others a national competition, with money prizes up to 2.500€.
Furthermore, there is the Information Category, which includes special programmes, documentaries, tributes and retrospectives (animated films selected on account of their interest, regardless of length, production date or country of origin).
As far as the deadlines are concerned, the entry form, the preview material and the documents must have been submitted by 1 October 2014, while the films (in case of selection) must have been arrived by 5 January 2015.
No entry fee is required.
If you are interested, read the festival's regulations and submit your film online or fill in the entry form.
See the 2015 Anima poster: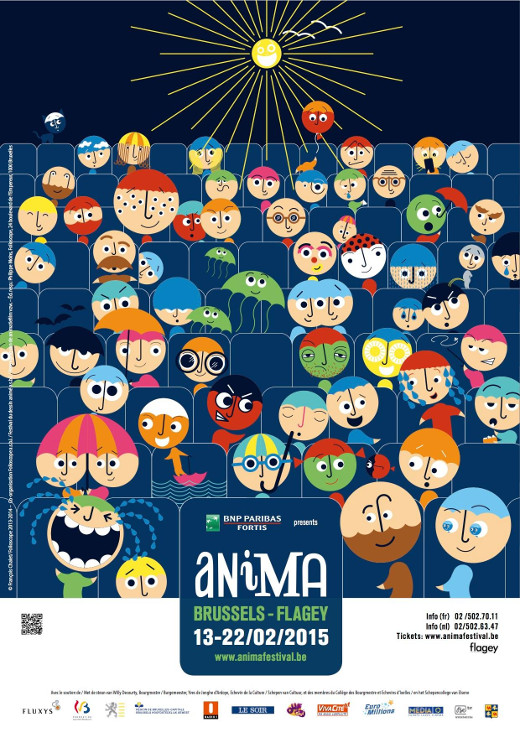 <![if gt IE 6]>
<![endif]>
Last Updated on Monday, 01 September 2014 15:49