Monday, 29 December 2014 14:01
The upcoming French film based on Antoine de Saint-Exupéry's novel of the same name comes in July 2015.
The first time the well-known 1943 novel by Antoine de Saint-Exupéry Le petit prince comes in feature animation is also a story within a story.
A fearless and curious child prodigy lives with her demanding mother. After moving into a new neighborhood, she discovers an old eccentric neighbour "The Aviator", and his own story of a pilot who met little prince in an extraordinary adventure.
Kung Fu Panda co-director Mark Osborne directs here a French production by Onyx films.
The contemporary story is framed in CGI, and stop-motion is reserve d for the little prince story.
Here's the international English trailer:
Dim lights Embed Embed this video on your site
Florence Foresti, André Dussollier, Marion Cotillard, Vincent Cassel, Guillaume Gallienne and Vincent Lindon are the voices in the French version.
Mackenzie Foy (girl), Rachel McAdams (mother), James Bridges ("The Aviator"), Riley Osborne take the main parts in the English version. James Franco, Albert Brooks, Paul Giamatti and (again) Marion Cotillard also join the cast.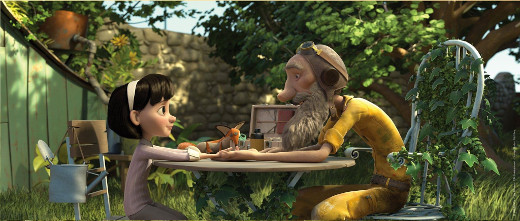 Little Prince is released on 7 October 2015 29 July 2015 (France) via Paramount Pictures France. US righs are handled by Paramount Vantage.
Here's the French site, and the Facebook official film page.
<![if gt IE 6]>
<![endif]>
Comments
(0)
Write comment
Last Updated on Tuesday, 03 March 2015 13:27