Wednesday, 13 April 2016 12:54
ΑnimaSyros 9.0 in Hermoupolis, Greece calls for entries.
The 9th edition of the AnimaSyros International Animation Festival +Agora returns to Syros island, Cyclades, Greece (Hermoupolis, Ano Syros & Posidonia), on September 21-25, 2016.

Τhe festival features 3 competition sections (International, student short & feature films) and thematic panoramas of animation (international, student, Kids, Greek).
Eligible are films made after 1/1/2013. Student Films are the ones created by students as part of their coursework. Feature Films should have a duration over 45 mins.

Animasyros' annual thematic priority is religious & cultural syncretism manifested through special screenings and presentations.

The artistic programme also includes a focus to Luxembourg, tributes to European animation festivals, as well as to the Turkish & Australian animation scenes.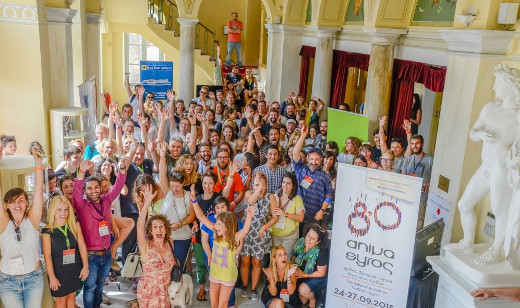 Animasyros 8.0, September 2015 (c) Animasyros

The market section of the festival, Agora, has expanded, to accommodate access to prominent animators, facilitate networking and develop synergies amongst professionals.
There is no submission fee. Apply online at www.animasyros.gr

Deadline: June 30, 2016.

For more information, email This e-mail address is being protected from spambots. You need JavaScript enabled to view it
<![if gt IE 6]>
<![endif]>
Comments
(0)
Write comment
Last Updated on Wednesday, 13 April 2016 13:44