For animation, video games and transmedia projects in development, here's the call from 3DWire fest to pitch your project.
3D Wire, International Animation, Video Games and New Media Market, opens the calls for projects for its 2017 edition to be held in Segovia (Spain) October 2nd-8th 2017.
The call for national animation and video games projects turns into a Portuguese-Spanish call after the focus on Portugal that took place last edition; furthermore, it opens a new international call for online animation series with Átomo Network as main collaborator.
The 3 categories are:
CALL FOR PORTUGUESE-SPANISH ANIMATION AND VIDEO GAMES PROJECTS
Only projects from companies or production companies registered in Spain or Portugal can participate. A maximum of 3 projects per company may be submitted. All animation techniques and formats are accepted in the categories of short films, feature films, animation series and video games, as well as apps and projects developed in virtual reality where the animation has a notable presence.
Both short films or audiovisual pieces of a narrative nature, such as experiences or video games can participate in the VR (Virtual Reality) category.
In addition to being eligible for different awards, several projects may be selected to receive business and creative consultancy from international animation and video games experts, with different professional profiles (producers, distributors, buyers, publishers, televisions, etc.).
The public entity, RTVE, keeps its interactive awards to the most innovative video game, VR video game and app project, respectively. These awards are granted by the Interactive Media Department of RTVE; where the selected project can be presented to the Interactive Directorate of RTVE.
Moreover, Movistar+ supports, for the second consecutive year, the call granting the Short Film Project Prize Movistar+.
The short film selected in this section will obtain the acquisition of the rights of emission by Movistar+ for 9,000 euros during the term of 2 years and unlimited number of passes, being the first year in exclusivity. In addition, the short film will be officially released in the 2018 or 2019 edition of the 3D Wire Market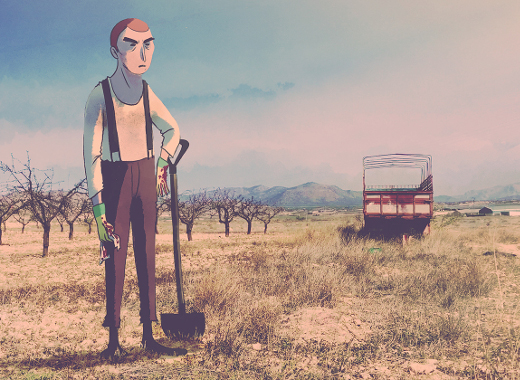 Mum's the Word /Soy una tumba by Khris Cembe won the 2016 Movistar+ Award at 3DWire
CALL FOR EUROPEAN TRANSMEDIA & NEW MEDIA PROJECTS
Nowadays,  projects are not anymore only animation or video game but a transmedia product; that also implies breakthrough technologies and new devices such as augmented reality, 3D printing, gamification, connected toys, wearable technology ... This call for projects is focused on this kind of innovative projects.
The main aim of this call is to encourage and facilitate European coproduction to reinforce European A/V sector capacity to operate transnationally. To foster European animation & games market, increase the visibility and circulation of EU projects and help to find new partners to finance, develop and create strong European IP transmedia projects.
Animation, games or new technology devices projects that can complete and enhance the transmedia experience can be submitted. New tech devices and projects have to be related to animation or video games.
In order to apply, the projects must be developed by European producers or in coproduction with European countries. They also have to be designed to be distributed in at least two different platforms.
CALL FOR ONLINE SERIES PROJECTS
Átomo Network, as the main collaborator, will give a series of awards to the best online animation series: Átomo Network Award, to the best web series in any language other than Spanish; and Premio Robot Atómico, to the best web series in Spanish language.
For both prizes the series should be directed to a target Kids (6-11), Teen (12+) or adult (18+), but in no case to Preschool. And it will be imperative that there are at least 5 episodes produced to aim for this award.
The Átomo Network Award includes the Átomo statuette, the dubbing and publication of the series in Spanish (neutral) on the Átomo Network Channel and the option of co-production in case of successful publication of the series.
The Premio Robot Atómico includes the Átomo statuette, an advance of $500 for the series and a distribution agreement to publish it on Átomo Network Channel, with the subsequent distribution of benefits between the series and Átomo Network. The Átomo Network Award includes the option of co-production in case of successful publication of the series.
These awards will be given among those online animation series projects that express their desire to participate and accept the conditions of the Átomo Network Awards (above mentioned).
In addition 3D Wire and Átomo Network will award the Átomo Grand Prix, to the best web series presented at the festival, rewarding technical and artistic merit. The winning series will receive the exclusive statuette of Átomo Network and 3D Wire.
PRESENTATION OF PROJECTS BY THEIR AUTHORS
Among the projects received in the three different categories a selection will be made that it's going to be published in the 3D Wire Market catalogue, in order to promote and help the distribution. The publication is distributed in the main international animation, video games and new media festivals and markets in addition to its free online distribution that reaches every year more than 7,000 professionals from the sector.
Among the selected projects several will be chosen to be presented by their authors during 3D Wire 2017.
Projects such as "The Reward" of the Danish animation studio Sun Creature Studio and one of the animation projects with more success in Kickstarter; The Belgian feature film "Jack and the Cuckoo-Clock Heart" by the producer Eric Goossens, winner of the CARTOON Tributes Award for Best Animated Producer in Europe 2014; and "Capture the Flag" by Enrique Gato, one of the most successful Spanish blockbuster films ever, were presented in other editions

Deadline (for all categories): 28 July 2017
More information:
Call for Portuguese-Spanish projects: http://mercado3dwire.es/call-for-portuguese-spanish-projects/
Call for European transmedia projects: http://mercado3dwire.es/call-for-transmedia-projects/
Call for International animation online series: http://mercado3dwire.es/call-for-online-series-projects/