Thursday, 15 December 2016 18:12
The 16th Countryside Animafest Cyprus 2017 is now accepting film submissions.
Animafest Cyprus - Views of the World, announces the call for submissions for the 16th Countryside Animafest Cyprus.
All short animated films completed after January 2016 are eligible to apply via an online application form on www.animafest.com.cy
Short films can be submitted to following competition categories
1. International short film Competition
2. Children short film Competition
3. National (Cyprus) short film Competition
Countryside Animafest Cyprus showcases a selection of the world's latest productions, focusing on independent, non-commercial films.
Read the complete festival regulations.
There is no submission fee. You can apply online.

Deadline for international film submissions: March 31st, 2017.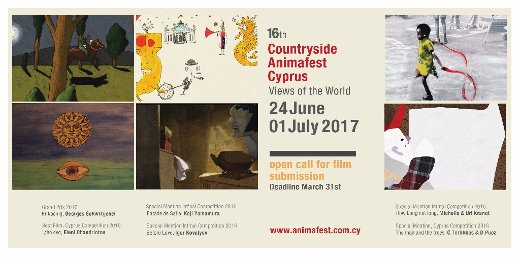 The 16th Countryside Animafest Cyprus will take place from June 24 - July 01, 2017.
<![if gt IE 6]>
<![endif]>
Comments
(0)
Write comment
Last Updated on Thursday, 15 December 2016 18:56