Thursday, 09 March 2017 14:33
The highly successful Anidox residency programme of animation documentaries project now opens its doors for 2017 applications.
This residency programme aims to connect 6 animation artists for the creation of a collaborative project headed by The Animation Workshop.
Each artist will contribute ca. 1 min. sequence which will be edited together to a short animated film. Organizers are looking for animation filmmakers with proven track record, who are self-sufficient in creating animation films.
Previous Anidox residency recipients inlcude Ülo Pikkov (Letting Go) and Martina Scarpelli (Egg).
This year's theme:
In 1918, Winsor McCay made "The sinking of the Lusitania", a propaganda film portraying the sinking of an English boat by a German submarine during WW1. Beside being an animation classic, this film is considered to be the first ever made animated documentary.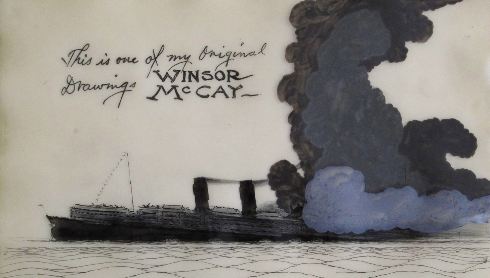 100 years later, in the age of fake news, a collective of talented animation filmmakers will gather to unearth the truth from deep waters and create a contemporary homage to the film.
The residency will last 3 weeks between June and July 2017 and take place in Viborg, Denmark
Schedule:
April - May: Development stage - Research and pre-production period in which filmmakers will develop their ideas in their respective countries.
June 22nd to July 14th- Residency period. The production of the collective project takes place in Viborg, Denmark, in collaboration with The Animation Workshop.
October: Premiere Screening at VAF Viborg Animation Festival.
Offer:

1) Travelling expenses and accommodation
2) A stipend of 2500 Euros
3) workstations, animation software, stop motion facilities, materials etc.
The filmmakers are expected to be present in Viborg for the whole period between 22nd of June and 14th of July 2017.
Applications
How to apply
Filmmakers should submit a single pdf document (Titled: YOUR NAME_ANIDOX_SUMMER_RES_2017) PDF must include:
One pager of a suggestion for a new work related to the theme "The sinking of the truth".
Links to previous works
CV
Send applications to: Michelle Kranot, ANIDOX Producer, Email: This e-mail address is being protected from spambots. You need JavaScript enabled to view it Complete applications must be received by April 1st, 2017.
Selection
A selection committee composed of ANIDOX team and consultants will select 6 participants. Those selected will be contacted in early April and once all conditions of participation have been confirmed the selection will be formally announced.
More details at the Anidox Residency page.
<![if gt IE 6]>
<![endif]>
Comments
(0)
Write comment
Last Updated on Thursday, 09 March 2017 16:17