Friday, 10 December 2010 12:28
A new independent animated feature on depression comes with Signe Baumane's Rocks in My Pockets, now with Zeitgeist Films on board as its US distributor for an autum 2014 release.
The independent, 88-minute animated feature film Rocks in My Pockets is a semi-autobiographical story by New York animator (of Latvian origin) Signe Baumane.
It involves 5 women from different generations and different historic backgrounds, and raises questions of how much family genetics determine who we are and if it is possible to outsmart one's own DNA.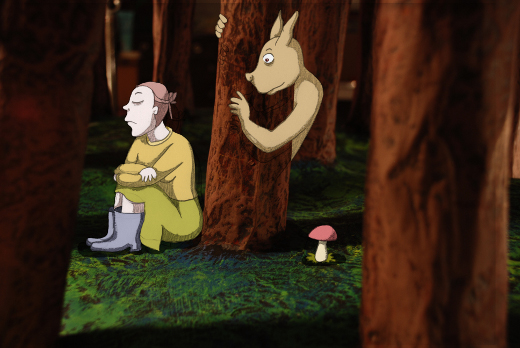 This self-described funny feature fiilm about depression is now being picked up for distribution by the renown Zeitgeist films, the New York-based distribution company with a tradition in auteurish films (Todd Haynes, Christopher Nolan, the Quay Brothers, Agnes Varda, Olivier Assayas are some notable names), nominated 6 times for an Academy Award (won for Nowhere in Africa).
The film will premiere at the IFC Center New York on 5th September 2014.
Signe Baumane has worked with the US guru of independent animation, Bill Plympton, and her films have been included in many animation festivals worldwide (but also Sundance, Tribeca, and Berlin Film Festival).
Watch the film trailer for Rocks in my Pockets:

Dim lights Embed Embed this video on your site
The film combines hand-drawn animation (approximately 30,000 drawings for the whole film) and stop-motion sequences, that include puppets, cardboard boxes and plywood. See more about the animating process. Rocks in my Pockets was completed after a Kickstaster campaign that amassed $50,780,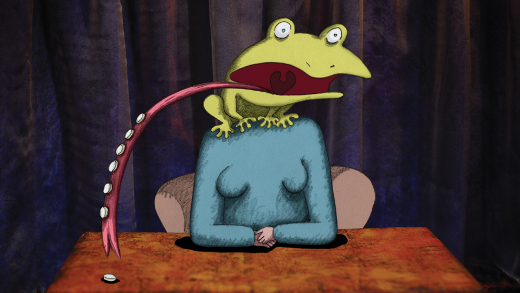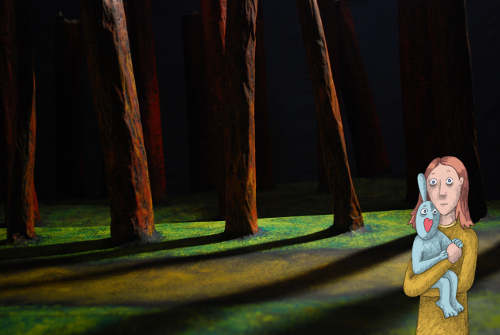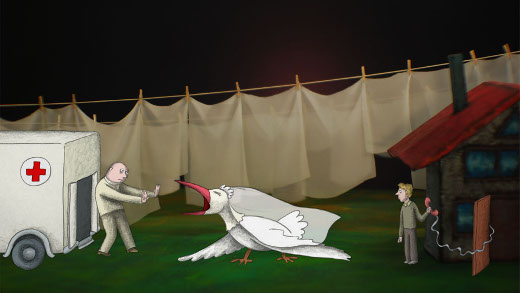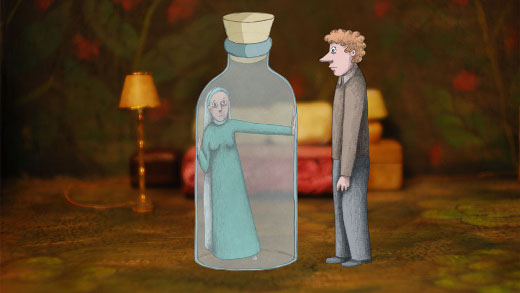 Read the 2 synopses below (the second includes spoilers):
"Rocks In My Pockets" is a story of mystery and redemption. The film is based on true events involving the women of my family, including myself, and our battles with madness. It raises questions of how much family genetics determine who we are and if it is possible to outsmart one's own DNA. The film is packed with visual metaphors, surreal images and my twisted sense of humor. It is an animated tale full of art, women, strange daring stories, Latvian accents, history, nature, adventure and more.
Signe lives in 2010, in New York. She observes her mind always turning to self-hating thoughts that inevitably end in the desire to kill herself.
Where those thoughts come from? We are told that genes predetermine many of our diseases, like skin cancer, uterus cancer and others. Is a mental illness genetically predetermined, too?
Signe investigates her closest relatives, starting with her grandmother Anna.
Anna was a brilliant student, intelligent and pretty. But she came out of age in a conservative country in the times when women were not expected to have careers. She married an adventurous man who insisted in procreation. They produced 8 children and Anna had to take care of her large family.
Anna was found trying to drown herself in a shallow river near her house.
She eventually died at age 50. Her children, who were very attuned to protecting the fragile reputation of their family, carefully covered up the causes of her death.
The time passes. Anna's children have their own children. One of Anna's granddaughters Miranda tries to kill herself after childbirth. She is locked in a mental hospital where she finally succeeds to jump from a roof to her death.
Another granddaughter, Linda, succumbs to mental breakdown, caused by love troubles and over studying. She runs under a train. Granddaughter Madara obeying the orders of mysterious voices hangs herself.
Signe after giving birth to her son, starts having suicidal thoughts, so she goes to a psychiatrist. Signe is given a handful of pills and locked into a mental hospital. It seems,
Signe will never free herself from the clutches of mental illness. But, miraculously, Signe escapes the fate of the others by divorce and by becoming a woman she once dreamed to be – an artist.
Visit rocksinmypocketsmovie.com and the Zeitgeist film page for updates.
<![if gt IE 6]>
<![endif]>
Last Updated on Thursday, 24 July 2014 10:14