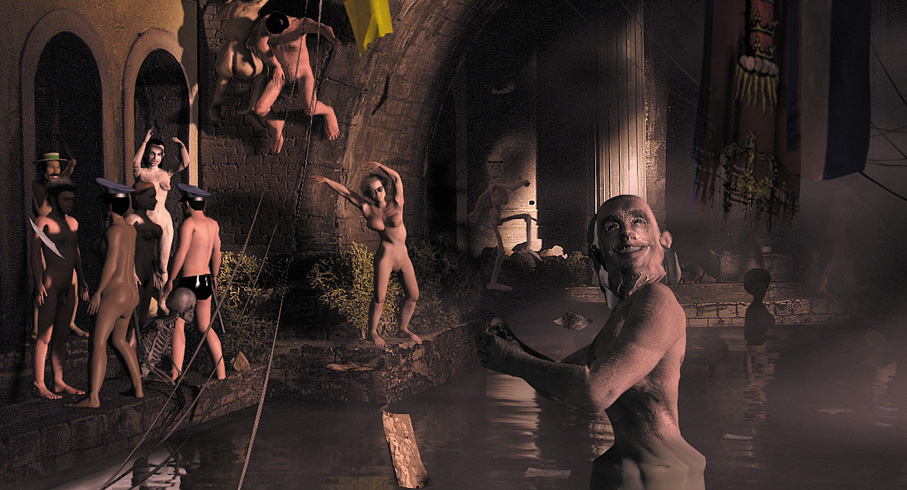 Daniel Šuljić, filmmaker and artistic director of the World Festival of Animated Film – Animafest  Zagreb, explores the contemporary Croatian animation scene.
Animation in Croatia has a long and successful tradition. Films and filmmakers from the Zagreb School of Animation have their place in the world history of animation. At its peak, visually bold shorts from the Zagreb Film studio were influential in changing the game of this marvelous art form. The likes of Duško Vukotić, Vatroslav Mimica, Vlado Kristl, Nedjeljko Dragić or Borivoj Dovniković Bordo (to name just a few), gave a new quality to artistic animation over a long period of time (1950s to early 1980s). It can be claimed that animated films are among Croatia's best contributions to the global cultural heritage.
The golden days of the Zagreb School of animation ended during the 1980s when a creative and economic crisis sneaked in; during the War for Independence (1990s), there were more important issues to cope with. The tables turned back in the last two decades – Croatian animation is successful again with new films entering competitions at the best film festivals and winning international awards. There are also now animation studios in cities other than Zagreb, so we can indeed speak of a truly Croatian animation. There is a new highly interesting wave with more and more new animators and new styles in search for a great film.
What are the reasons for this new energy?
Thanks to the long tradition of Zagreb School of Animation and the World Festival of Animated Film – Animafest Zagreb, animation has its value in Croatian society, has good support by the authorities and it is recognized by the local audience and art community.
First important international successes from the new generation were achieved by films like The Cake (Daniel Šuljić, 1997) and In/Dividu (Nikole Hewitt, 1998), followed by Plasticat (Simon Bogojević Narath , 2003), and Ciganjska (Marko Meštrović and Davor Međurečan, 2004).
One of the key factors for this new success was a big change on the production level. All films from the Zagreb School were made in the legendary (but still city-owned public institution of) Zagreb Film. However, since the early 21st century, a number of new private producers emerged, which significantly raised the overall number and diversity of productions. A top name in that sense is Bonobostudio – at this moment, internationally the most successful production and distribution company from Croatia. Other notable production companies include Kreativni sindikat and the new Adriatic Animation.
Furthermore, the variety of techniques increased. Almost all Zagreb School films were cel animations, but the new animation scene boasts a much broader scale of techniques to offer. 3D CGI or Flash animation developed in recent decades with films like Leviathan (Simon Bogojević Narath, 2006), Silencium (Meštrović, Međurečan, 2006), Planemo (Veljko Popović, 2016) or Croatian Tales from Long Ago, an interactive CD-ROM (Bulaja naklada, 2002).
Puppet film is also having a big boom – whereas in the golden Zagreb Film era only three puppet films were made (out of approximately 500 films). Examples include Simulacra by Ivana Bošnjak and Thomas Johnson, (2015) and The Last Quest (Božo Trkulja, 2017). Daniel Šuljić in A Film with a Girl (2000) and Michaela Müller in her films Miramare (2010) and Airport (2017) used oil or sand on glass. The likes of Marko Tadić, Dalibor Barić, Ana Hušman or Darko Bakliža continue on the tradition (remember Vlado Kristl!) of films connected to fine arts.
The Academy of Fine Arts in Zagreb and its University Programme for Animation and New Media was another contributing factor to contemporary Croatian animation renaissance. Zagreb School was never an educational institution where people could go and study; but nowadays, new generations of talented students emerge from there. Also, highly talented women started to dedicate themselves in much larger numbers to the art form, their films effectively giving new impulses to the rich medium (among them Petra Zlonoga, Jelena Oroz, Tea Stražičić, Ivana Bošnjak, Irena Jukić Pranjić).
Last but not least, the newest trend – international co-productions with a Croatian contribution, encouraged by the EU MEDIA programme and National Audiovisual Funds, is also increasingly bringing more diversity. Examples include Slovenian filmmaker's Špela Čadež Nighthawk (Bonobostudio as a minority co-producer), Michaella Müller's Airport and Chintis Lundgren (currently a Croatian resident), whose films Life with Herman H. Roth and Manivald are both doing extremely well with festival audiences.
A few words about the festival scene. The World Festival of Animated Film – Animafest Zagreb (established in 1972), is the second oldest film festival in the world entirely dedicated to the art of animation. Its competitions, retrospectives, exhibitions, pitchings, lectures, workshops and other events have consistently influenced and greatly promoted animation both in Croatia and internationally. It is being considered one of the four or five most important animation festivals worldwide.
Supertoon is the second exclusively animation festival, taking place at the end of July on the Adriatic coast (swimming and flip-flops during the day, screenings during the evenings), on the streets of the mediaeval coastal town of Šibenik. Diverse mixed festivals, like 25 FPS, screen short and feature animations in their programmes as well.
Indeed, the contemporary animation scene in Croatia right now is very versatile and vivid, with a good perspective to become even richer in the future.

Daniel Šuljić is a filmmaker and artistic director of the World Festival of Animated Film – Animafest ZAGREB