Festival Description
ReAnima Festival team is an enterprising and professional group working in cinema, animation, culture, academia and digital marketing. By using our experiences in the animated world, we want to help create a wider audience that can enjoy and understand what animated art is all about. As we organize ReAnima International Animation Festival, embracing novelty, variety and international influences are our means to achieve our goals
2022 Festival Coverage

ReAnima: Bergen International Animation Festival will be taking a break in 2022. This means that our festival team will not be arranging the four-day festival in 2022, physically or digitally. It also means that this year, it will not be possible for you to send your animated short films to the festival for consideration.
Please note: The festival will return in 2023, and you will then be able to submit your animated short films t
2021 Festival Coverage
2020 Festival Coverage
The new design poster and identity for ReAnima 2020 was created by  designer Mariia Snisarenko. She is a Ukrainian designer based in Poland. Mariia is behind of many visual identities for international festivals around the world, posters, books, and more. You can find more of her art in www.mariiasnis.com and in her Instagram @mariiasnis.
ReAnima Trailer
2019 ReAnima Coverage:
Video Report


REANIMA JURY MEMBERS 2019: Marita Mayer, Gustav Kvaal, Claudia Cazzato
2019 Trailer


Ida Neverdahl animation, design and comics artist designs the 2019 ReAnima Festival poster.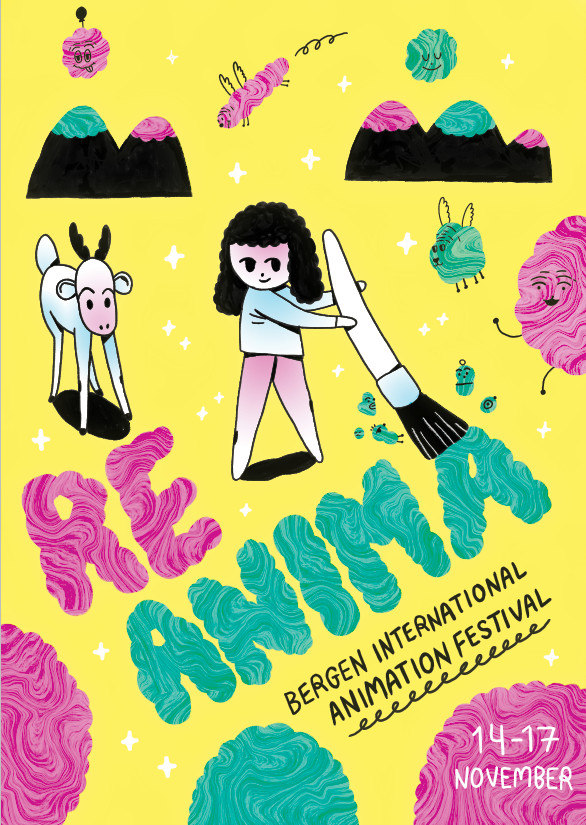 2018  News Coverage (Archive):

2018 Festival Programme:
Festival program for adults:
- International competition:  Received over 700 animated short films from all over the world. The festival will screen the best contributions and announce the winners within different categories
- The accredited feature film «Un Homme est Mort»: A moving film that takes up worker's rights
- Accredited short films from Norway: The best films from Volda Festival and Fredrikstad Festival
- Accredited short films from Europe: The best films from Turku Festival in Finland and Opla Festival in Poland, with the festival directors as international guests
- Short films made by promising artists and designers at the Faculty of Art, Music and Design in Bergen and the Art Faculty in Oslo
- Retrospective screening of the films made by Qvisten Animation, the largest animation studio in Norway (among other films, they have produced the new «Pinchcliffe» films and «In the Forest of Huckybucky»)
- Fredrik Rysjedal will hold his awarded performance «Close, Closer, Closest». The performance includes high level animation and performance art
- Art exhibition made by promising artists and designers at the Faculty of Art, Music and Design. Performance during the opening of the exhibition
- Outdoor screening on the wall of Bergen Public Library. The animation has been made by promising artists and designers at the Faculty of Art, Music and Design
- Debate and short films focusing on and promoting human rights. Experts on human rights and art will participate in the panel. Arranged in cooperation with the Rafto Foundation for Human Rights
- Visual lecture on the history of Norwegian animation, focused on animation in Bergen, held by central persons in the local animation society
- Festival parties with good vibes

2018 Festival program for the whole family and children:
- Exclusive outdoor preview of the new, big family film «Kutoppen», made by Qvisten Animation.
- The moving family film «Ana & Bruno» that takes up mental illness in a fun, clever and unique way (12 years)
- Animation workshop where children can learn how to make animation films. This fun workshop lasts for two days, and the children will have the chance to screen their films at the festival
- Performance with live animation and music made by creative pupils from Bergen kulturskole
- Short films made by creative pupils in the animation class at Bergen kulturskole
- The best children's films from the festival's international short film competition
 2018 Festival Trailer ( by Norwegian artist Simon Furdal) 
2020 Call for entries (Archvive)
Bergen's first International Animation Festival aims to find and bring together the best of Scandinavian and international animation in one place. The festival accepts works of the following techniques: 2D and 3D animation, experimental animation and animated video clips.  Films must not exceed 20 minutes, and must have been completed after 1/1/2018.