Festival Description
Seoul International Cartoon and Animation Festival (SICAF) is an international event that specializes in animation representing Asia. Since it started as a small animation screening event in 1995, it became the official member of the Association of Animated Film Festival (ASIFA) in 2005, and has grown into a reputable international animation festival over the past 22 years. Largely divided into competition and invitation sections, The SICAF program introduces a variety of works expanding the territory of animation from the classical masterpieces to the latest hits, focusing on the changing environment and paradigms. In addition, SICAF succeeds the tradition with Animation Awards and encourages the young artists to lead the future with International Competition and Production Support Program for Short Animation.
2019 Call for entries:
Any frame by frame or computer assisted animation video or film made for the cinema, television and/or the internet may be entered. Eligible films should be works completed after January 1st, 2017.
Competition Categories:
1) Feature Films: Films with a running time of more than 40 minutes in length and/or films made for official cinematic release.
2) Short Films: Films with a running time of less than 40 minutes in length.
3) Student Films: Films produced by students with a running time of less than 40 minutes in length.
4) SICAF KID: Films made for children
a) Films for the ages of 3-6
b) Films for the ages of 7-12
5) SICAF Online
6) SICAF TV & Commissioned:


There is no submission fee.
2018 Festival Coverage: Trailer 

Iran│2018│1min│Color│Seyed Vahid Olyaee
 
For millions of years, earth has been a generous and forgiving mother for all kind of species and creatures. Its rich natural resources, liquid water and a unique atmosphere that shelters it from the worst of the sun's rays have made it a special planet. The earth has witnessed all kind of extinct creatures that used to feed on it. No other planet has yet been known to have such a warm hospitality. However, the only creature that has seriously damaged and destroyed this kind planet is human being. Actually our ignorance has caused severe problems for this amazing habitat. Growing environmental awareness about the fact that our mistakes endanger our lives as well as the whole planet and its habitants, will definitely help to save our planet and protect this precious treasure.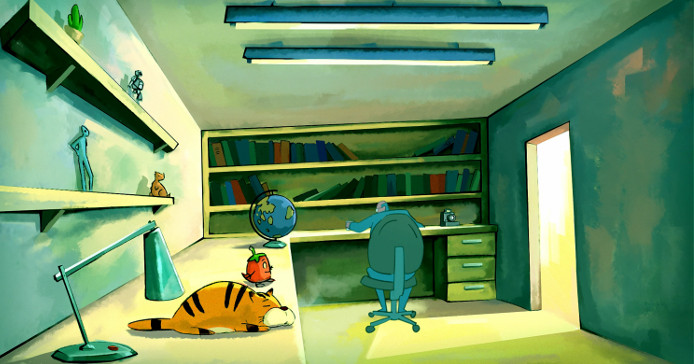 Regarding this scientific concern, we have decided to remind our children and young audience that every single being on this planet has the right to live and we as human beings must do our best to respect, appreciate and protect our unique planet. In designing this poster we were inspired by a poem by famed Iranian philosopher and poet Molana who reminded us that every particles in this world form animate to inanimate is aware and they are in constant harmony and dialogue with each other, however our ignorance has made us unable to hear or see them. All forms of being from animals, plants (to add more variety we used Cactus which lives in extremely dry habitats), unknown creatures from space or other planets and even robots are worried about earth and try to fix our damages.
 
SICAF2018 Preliminary Selection: Jury Members

 Yeong Dong Jang│South Korea │STUDENT FILMS:
I based this year's judging on the categories of creative artistry, marketable factors, and technique. I've also considered the films and how they were made – whether it was made by an individual or produced by a group. I've also taken the factors of SICAF's mission into consideration and chose films apt for the competition. A particularly noteworthy factor is that I did consider that the films were going to be watched by an audience – and judged from, not an artistic individual's perspective, but an audience's perspective. Conclusively, my judgings were based on artistry, marketable factors, the plot, and technique. I wish the best of luck to everyone who submitted their films.
Young Don Jang has taught character design and animation at many universities including Kookmin University, Sungshin Women's University, and Hoseo University. He is currently a professor at Myongji University and is taking part in the development of Korean animation. Other than his duties as a professor, Jang has been contributing to developing flash animations and character design. He is also a part of many organizations; he is currently a chairman at Korea Animation Artist Association and at ASIFA Korea, and a part of the organizing committee at the Korean Character Society.
 
Kwon Chul Byun│South Korea│Poilot, Kids, Online: Kwon Chul Byun is the CEO of Studio Moggozi, a creative studio taking part in making animated films and characters. Byun has been expanding the industry of Korean Animation and working on the following animated films as a director and producer: T-pang rescue, Grami's Circus, Modoo Modoo Show, Duda & Dada, and Go Go Dino. He is also taking part in licensing and new media content-related businesses.
 
Sung Kyu Choi│South Korea│FEATURE FILMS, SHORT FILMS:  Sung Kyu Choi received his master's degree from the New York Institute of Technology in Communication Arts and 3D Animation. After graduating, Choi took on many roles relating to animation. He was a visiting professor at the Vancouver Film School, a chairperson at the Seoul International Cartoon & Animation Festival (SICAF), a jury member at the Busan International Short Film Festival, and so forth. He is currently taking on many roles such as being a professor at Kyung Sung University and being the president at the Busan Film Animation Forum.
 
Hannes Rall│Germany│SHORT FILMS : I felt very honoured and took great pleasure in participating in this year's pre-selection jury for SICAF. With a record number of submissions it proved to be a wonderful yet very challenging task. It is obvious that tough choices needed to be made in the end. When it comes to the final selection, it is unavoidable that some excellent films cannot be considered because there are only so many screening slots available. But this also means that we got to see the current status of independent animation from all around the world. And I am happy to report that the art form is continuing to scale new heights of achievement: Drawn animation in variety of approaches is keeping its strong presence in the independent world with some truly outstanding pieces. Digital media are increasingly used in highly inventive and hybridised ways. Mixing techniques in the service of a compelling artistic vision is a continuing trend that often leads to the strongest results. I am further happy with the fact that the quality of storytelling is strong in many films. The best films match narrative and art perfectly. On the other hand I was fascinated by films that remain challenging to the audience, with positively "weird" visuals and unconventional approaches to story. Either artistic direction should find its rightful place in a world class festival for independent animated film. Animation has become a globalised art form in the best sense of the word: Asia and the greater Pacific region, Europe and North America remain strong. What I noticed particularly this year is the growing quality of films from South America: There is some outstanding work with strong storytelling and a incredibly high level of craft on display. Today, fantastic animation can emerge from every corner of the world. A diversity and artistic kaleidoscope this year's short film competition at SICAF will reflect beautifully.
Hannes Rall is a tenured Associate Professor at the School of Art, Design and Media (ADM) at Nanyang Technological University, Singapore and Area Coordinator of the Digital Animation Program. Hannes is also a successful independent animation director. His films have been shown in more than 500 festivals and won over 60 awards. He has been awarded 12 major film funding grants and 11 competitive research grants. Hannes has presented his research in leading conferences like ACM SIGGRAPH, FMX and the Annual Conferences of the Society for Animation Studies. His book "Animation: From Concept to Production" was published by CRC Press in December 2017.
 
Andy Buchanan│Australia│FEATURE FILMS, SHORT FILMS : This year, the SICAF festival attracted exceptionally high quality entries in the animated features and animated shorts categories that reflect the global interest in animation and in Korea as focal destination for cutting edge industry and independent production. The entries also reflect an ever broadening collection of styles, themes and auteur orientations to animated work. Judges were treated to the most refined VFX, innovative digital practices, stunning abstract explorations and personal, emotional expressions, as well as most impressive contributions in the lineage of traditional animation craft. The quality of this curated selection for the 2018 SICAF festival is a credit to the filmmakers whose work is sure to delight.
Andy Buchanan is a digital animation artist from Melbourne, Australia, best known for his sculptural morphing animation installations. Over the last decade, his work has been shown exhibited at the Sydney Film Festival, Experimenta Biennial, ISEA, The National Gallery of Victoria, White Night, and at other national and international animation and projection art events. He holds a PhD in Creative Media from RMIT University (Plasmatic: Improvising Animated Metamorphosis), as well as degrees in Animation and Design. Buchanan's animation research includes digital 3D metamorphosis, animated neuroaesthetics and philosophy of mind, and improvisation in animation practice.
 Antony Gusscott │Australia│STUDENT FILMS
There was a magnitude of students films this year. The ones that stood out made an impact in the first twenty seconds, had a strong story, relatable characters and in most cases, there was a twist or a reveal at the end. An animation is an experience and the media can be anything, hand drawn, computer rendered, clay, ripped paper, dolls. But, it's not just visual. So much emotion can be conveyed through music, the voices and sounds this shouldn't be overlooked even if you are only an animator. Find others and use your combined strengths to tell stories that want people want to share.
Antony is the Creative Director at Sprinkles on Top. He consults with Animation companies to create TV Series and Character Brands by developing Show Bibles, Style Guides and Pitching materials. Antony has been in the Korean Animation industry since 2006. He began his career as Designer / Writer, and worked his way to becoming a Producer and a Director.