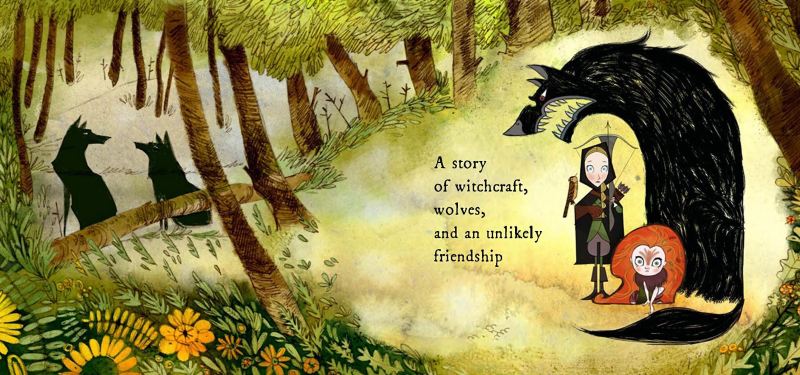 Tomm Moore (Song of the Sea, The Secret of Kells) embarks on a third animation feature Wolfwalkers, co-directed by Ross Stewart for Cartoon Saloon. 
The director and art director of The Secret of Kells, Tomm Moore and Ross Stewart respectively, team up for a 17th century Kilkenny adventure Wolfwalkers.  The film is produced by Cartoon Saloon (Ireland) and Melusine Productions (Luxembourg), 
In a time of superstition and magic, a hunter and former soldier, Bill Goodfellowe, travels with his adoring daughter, Robyn, deep into "Wolfland". He has come to wipe out the last wolf pack. His prize: a pardon from the callous, puritanical Lord Protector and a chance of a better life for his daughter. But when Robyn has a young wolf in her crossbow sights she fails to take the shot. Instead, she is bitten! That night, a mysterious wild girl, Mebh, steals into Robyn's quarters. Using magic, she attempts to heal Robyn's bite wound while she sleeps. But Robyn wakes and the forest girl flees into the night - Film Synopsis
Watch The Wolfwalkers trailer:
In their 2020 Annecy Festival presentation,  they mentioned the kind of continuity that existed between the previous projects (The Secret of Kells, Song of the Sea) and Wolfwalkers in tone and narrative. Tomm Moore also mentioned his inspirations, and how he was  aesthetically captivated  by the Tale of the Princess Kaguya (Isao Takahata) and its commitment to the same kind of storytelling and aesthetics from the first frame to the last.
Production designer Maria Paneja explained that one of the greatest challenges was to integrate the purposedly flat characters into the rich watercolor backgrounds. Script-wise, the first act had to change during production, in order to make the confrontation between the two girls taking place at an earlier stage.
Watch the conceptual Wolfwalkers trailer


Behind the scenes Wolfwalkers
As reported by Animation Magazine, Wolfwalkers will make its fall 2020 release on Apple TV+, but it will have a theatrical distribution in Asia (China, Japan).