Festival Description
Founded in 1982, ITFS ranks among the world's most important events for animated film in all its aspects, and with its intersections with visual effects, architecture, art, design, music, science, games, et al. Every year, it attracts up to 100,000 visitors and industry professionals from all over the world with the best of high-quality animations and interactive works.
ITFS is organised by Film- und Medienfestival gGmbH established in 2000, who have made it their business ever since to promote high-quality media content and create outstanding film and media events, so as to achieve a sustainable strengthening of the creative industries in the Stuttgart region.
ITFS is an Oscar-qualifying festival which offers directors, production companies and distributors as well as talent and all further professionals from the animation and games industries a platform to present their films, interactive and transmedia works as well as VR and AR projects to an interested, wide audience and a large number of industry representatives. The competitions and film programmes screened at Innenstadtkinos are the heart of the festival. A total of up to 90,000 € in prize money is awarded by international expert juries in currently twelve competition categories.
2022 Festival Coverage
The 29th Stuttgart International Festival of Animated Film will take place from May 3 to 8, 2022. It is planned as a hybrid version, onsite events in cinemas and other locations will be supplemented by online offers. On the one hand, it will once again be possible to exchange ideas in person and to experience animated feature and short films together in the competitions and in the extensive supporting programme, workshops, lectures, presentations, games and exhibitions and much more live in Stuttgart. The Schlossplatz will once again become the central meeting point where the public can come together to enjoy the open-air programme free of charge.
Call for entries:
Animated films completed after October 1, 2020 can now be submitted for the main competitions of the Festival.
International Competition – International competition for animated short films
Young Animation – International student film competition for animated short films
Tricks for Kids – International competition for animated short films and series for children
Trickstar Nature Award – Competition for animated short films that deal with the topics of climate protection, biodiversity, the environment and sustainability
AniMovie – International competition for animated films of feature length
Deadline:

1 Dec 2021

 

17 Jan 2022 (animation features)
The ITFS 2022 will be graphically represented by the trailer "The principles of animation / Black is Back" by François Chalet. The Swiss artist teaches storytelling and expanded animation at the Lucerne University of Applied Sciences and Arts and works as a visual artist in the fields of illustration, animation, installation and performance as well as on multiplatform projects.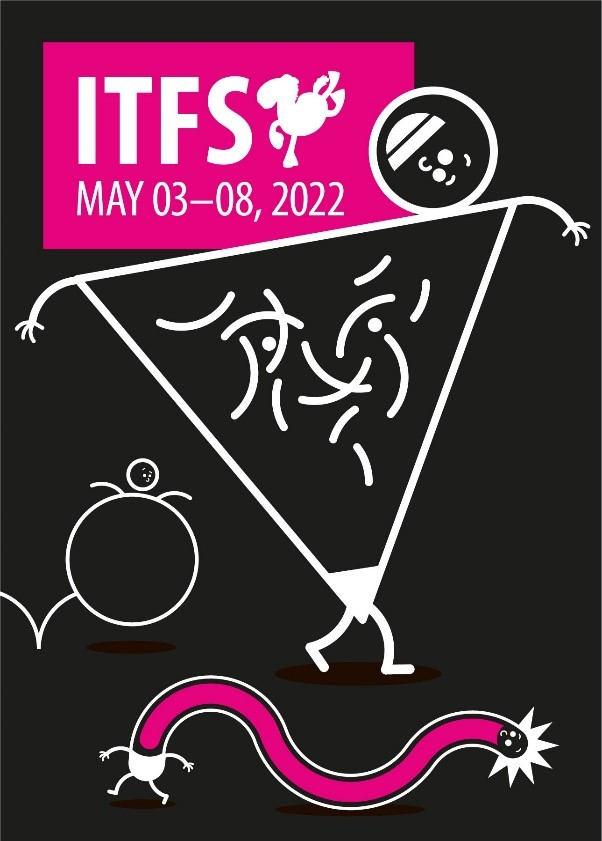 2021 Festival Coverage
Selected films (International Competition)
Selected films (Young Animation)
2020 Festival Coverage
2018 Festival Coverage