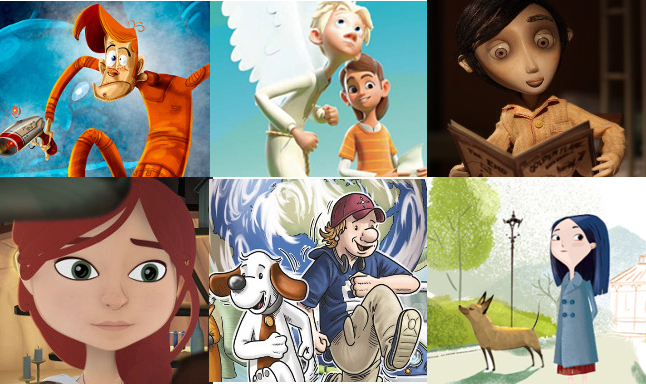 Details

Vassilis Kroustallis
The pitching forum for Central Eastern European Animation extends its mandate to feature animation in 2018.
With its recent successes of the Czech feature Alois Nebel (2011, dir. Tomáš Luňák) - which won the European Film Award for Best Animated Feature in 2012- and the Romanian/Polish adult feature Crulic (dir, Anca Damian, 2011) -Crystal at Annecy festival in 2012- Central Eastern European feature seems more than equipped to re-discover itself in feature animation as well.
If only if there is funding -and appropriate initiatives to meet and work together. For the latter, Visegrad Animation Forum, which organizes each May in Trebon (Czech Republic) a pitching forum for short and TV series, has now decided to extend this mandate to feature animation as well. 
 6 animation features from CEE countries have been selected from VAF's national representatives for this pilot edition. Participants will receive the feedback on their project after their pitch by invited distributors and expert producers, who will help improve or guide the projects. After the pitch, all six teams will have networking sessions in order to get in touch with other film professionals from audience.
The winning feature project (chosen by an international jury) will have direct access to Cartoon Movie 2019. The audience will also award the best pitch which will receive a special price offered by Nespresso.
While his first feature, Another Day of Life (co-directed with Raúl de la Fuente) is scheduled for a 2018 release, Damian Nenow presents -along with co-director Bartek Kik- the new 2D/3D project Fatima and the Secret Treasure, where a 12-year Portuguese girl sets out a supernatural journey to save her family.
Another female character, the 13-year old princess Helka fights for happiness in the eponymous family feature (dir. by Hungarians László Nyikos and Csaba Fazekas), which blends local tales and fantasy.
Polish Studio Miniatur Filmowych (which made Anca Damian's The Magic Mountain) now prepares Schlemiel ( based on a book by Marek Ryszard Gronski),  a story of courage and friendship during difficult times, with a script by Wojciech Lepianka and Joanna Ronikier.
A joint stop-motion effort from four  directors is the project Of Unwanted Things and People: the stories by David Súkup (Czech Republic), Ivana Laučíková (Slovakia), Leon Vidmar (Slovenia), and Agata Gorządek (Poland) -from the book by Arnošt Goldflam- promise a deeper understanding of the childhood predicament.
The renown Czech illustrator Vladimír Jiránek is the inspiration behind Jack Russel The Planet Rescuer by Ondřej Pecha (producer: Bioillusion) which follows a talking dog in his very real world adventures.
The Macedonian 2D animation project John Vardar vs the Galaxy by Goce Cvetanovski extends this world scope to humorous intergalactic trends, and concludes the 2018 VAF feature pitch line-up.
The full project list:
1. Fatima and the Secret Treasure
Directors: Bartek Kik,  Damain Nenow
Producers: Sofia Miranda, Magdalena Bargieł (Platige Image)

Logline: Having lost her mother, Madalena, a Portuguese 12-year old girl, vows never to pray again. Now she must save her family using clues from her mom's diary. In the guise of teenagers, an angel and a demon join this quest and secretly fight for her soul.
Target audience: family
Estimated budget: €4,5M
2. Helka
Directors: Nyikos, László,  Fazekas, Csaba, Hungary,
Producers: Sándor Csortos Szabó (Budapest Film Production Ltd.)
Logline: Helka is a 13-year-old princess who must take on her greatest enemy in order to bring freedom and happiness back to her homeland. Tradition, fairy tale, adventures, and humour.
Target audience: 7-12 years, +family
Estimated:  budget: €3,7 M
3. Jack Russel The Planet Rescuer (Jack Russel Zachránce planety)
Directors: Ondřej Pecha
Producers: Miloslav Šmídmajer (Bioillusion)

Logline: The film was inspired by the artwork of Vladimír Jiránek, author of the legendary duo Bob and Bobek and aims to entertain the all families with young children and teenagers.
Target audience: Families with children and teenagers
Estimated budget: €708,000
4. John Vardar vs the Galaxy (Jon Vardar protiv Galaksijata)
Directors: Goce Cvetanovski, Macedonia
Producers:  Alan Castillo (Lynx Animation), Kalin Kalinov, Bulgaria Didier Falk (Will Production), Per Rosendal (Savannah)  Miljana Dragicevic (3d2d)

Logline: The most ridiculous space-opera EVER!!!
Target audience: Family
Estimated budget: €1,7M
5. Of Unwanted Things and People (O nepotřebných věcech a lidech)
Directors: David Súkup [CZ], Ivana Laučíková [SK], Leon Vidmar [SI], Agata Gorządek [PL[
Producers : Martin Vandas [CZ], Juraj Krasnohorský [SK], Kolja Saskida [SL], Wojtek Leszczynski [PL]
Production companies: MAUR film [CZ], Artichoke [SK], ZVVIKS [SL], WJTeam/Likaon [PL]

Logline: Four short stories for children, by four directors from four countries, based on a book by the Czech author Arnošt Goldflam.
Target audience: 7 - 11
Estimated budget: €1.5m
6. Schlemiel
Producers: Włodzimierz Matuszewski  (Poland)
Logline: Schlemiel is a story of courage and friendship during difficult times, when you must risk your own life to save someone you love.

Target audience: age 6-9 years
Estimated budget:  €4M


The VAF Třeboň takes place on May 1 – 3, 2018 and is held jointly with ANIFILM – International Festival of Animated Film (May 1 – 6, 2018, Czech Republic).