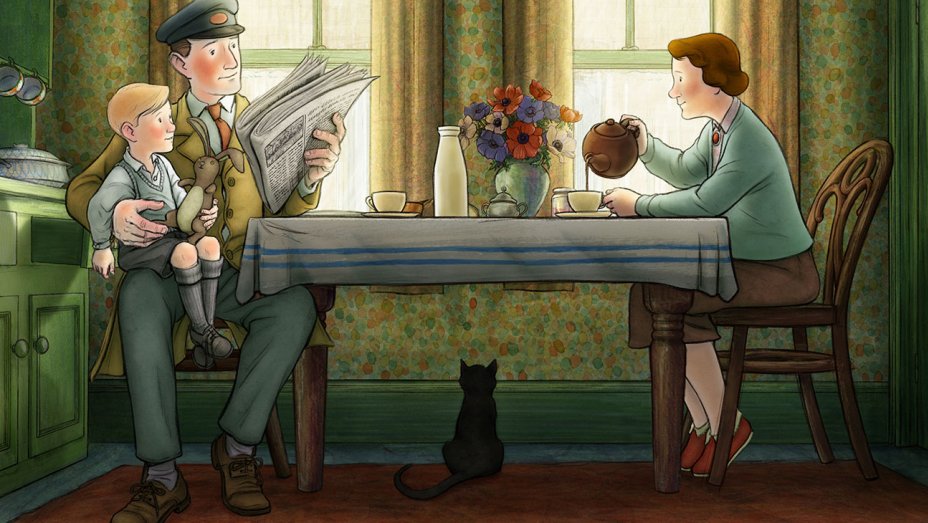 Ethel and Ernest feels unashamedly nostalgic, carefully researched and with a heart.
The whole project started as an idea from The Snowman and When the Wind Blows producer John Coates (1927-2012), who in 2007 proposed Roger Mainwood to make an animated feature of Raymond Briggs' 1998 graphic novel Ethel and Ernest. When Coates died, Lupus FIlms took over the project, which (in co-production with Melusine Productions and Cloth Cat Animation) finally faced the big screen in 2016.
Roger Mainwood is no stranger to Raymond Briggs' oeuvre, having already worked as an animator in The Snowman (1982) and a lead animator in When the Wind Blows (1986); and he persuaded Briggs (whose status in national cultural scene was elevated to a Commander of Order of the British Empire in 2017) to act both as an executive producer, and star in the opening sequence in the live-action segment, warmly lit by cinematographer Fraser Taggart (Edge of Tomorrow, Maleficent).
The live-action segment sets the tone for the whole film: it is a personal, intimate story told with humour, good old British stamina and will involve a marathon of 4 decades (1928-1971) to be narrated, animated and projected on screen. Ethel (Brenda Blethyn) a house maid in 1928 London, needs to face the impossible commands of her Lady employer (an appropriately regal Virginia MacKenna), but her dusting out of the window brings her in contact with her future husband, the jovial milkman Ernest (Jim Broadbent).
The romance will quickly escalate to marriage and the birth of their kid Raymond, the only child the family can have. From now on, the lives of the couple up to their premature death will go almost without domestic inner troubles, as if the pastel palette of the film (a superb treatment in genuine nostalgia by art director Robin Shaw) actually dictates what the story will be like.
In a manner that brings more to mind William Wyler's concerned look of a family in The Best Years of Our Lives (1947) than John Boorman's racy depiction of WWII Britain in Hope and Glory (1987), the film devotes most of its screen time to WWII calamities in Britain.
Later events (first telephone, first TV, first man on the moon) are here used more as an opportunity for good jokes to keep the film moving rather than serious failures of the Briggs family to adapt. With the WWII taking over most of the screen time, from Hitler's ascension to power in 1933 to Winston Churchill being defeated by Atlee in 1945,  it is amazing how much historical texture underlies the film, in the same way that visual texture (from London buses to door knobs) provides a haven to safeguard from all atrocities.
This is the part that makes for good drama (but always within a comfort zone); the highest point being the separation of young Raymond from its parents,  and his moving in Dorset with his two uncles - a common practice during WWII to protect children from London bombings.
Even though Ethel and Ernest are both designed both visually and narrative to be a sort of representatives of an era now definitely gone by, they are still individualized as characters; Ethel is uneducated, and her dream is an 'office job', a personal wish she now transfers to Raymond (who won't follow it). Her account of social mobility through education comes in contrast with Ernest's own view of social progress through political involvement -and their views will clash in funny fights, one of the most interesting tidbits of the film.
But the third protagonist of Ethel and Ernest  is their own house, a haven from the outside world, and sometimes a place to build a shelter inside that very haven. Their home is literally built and furnished in front of our eyes from the start; it can host the mobility of Ernest's couch theatrics up to the movement inability of old Ethel in her bed. A vase of flowers prominent in almost every scene, big bottles that gradually become small pill containers, and the sound of tea (the film actually starts with the pouring of tea) says that family needs to survive -at whatever cost.
Carl Davis's score bridges almost imperceptibly silent era tunes (an expert in that), jazzy arrangements and orchestral score. Both composer, editor (Richard Overall) and director are daring enough to put 'We'll meet again' back in circulation, after its Kubrick treatment in Dr. Strangelove -it still works.
Having said that, one really misses in Ethel and Ernest  the despair and anguish found in Briggs' work (and Murakami's treatment) of When the Wind Blows. It is definitely different material being handled here, but still there are incidents or graphic details in 2D animation that could really make the difference from the overall style; scenes like the 'Their Finest Hour' Churchill talk really register what a war and a Dark Age would be like, but they are too brief and too sparse in the film, as if timidly put there.
Jim Broadbent and Brenda Blethyn deserve all the awards they can get for their performance as Ethel and Ernest, while the rest of the voice cast (Luke Treadaway, Roger Allam, Virginia MacKenna, Pam Ferris) also shines. They use all minute details to elevate the characters beyond their everyday worries to deeply human characters, both concerned and freewheeling at the same time, agonizing and jovial, a marvel to hear and feel.
Ethel and Ernest is a love letter to Raymond Briggs and Britain, without that limiting its viewers inside UK. 2D animation and storytelling here still has the stamina to make movies that tell a non-childish story.
Ethel & Ernest is produced by  Lupus Films (Camilla Deakin, Ruth Fielding) Melusine Productions / Studio 352 (Stephen Roelants), and  Cloth Cat Animation, with the support of FIlm Fund Luxembourg, FFilm Cymru Wales, The BFI's Film Fund. It premiered at the 2016 BFI London Film Festival, and has been submitted for the 2018 Academy Awards (Best Animated Feature).