Shorts
Elsewhere by Sylwia Kubus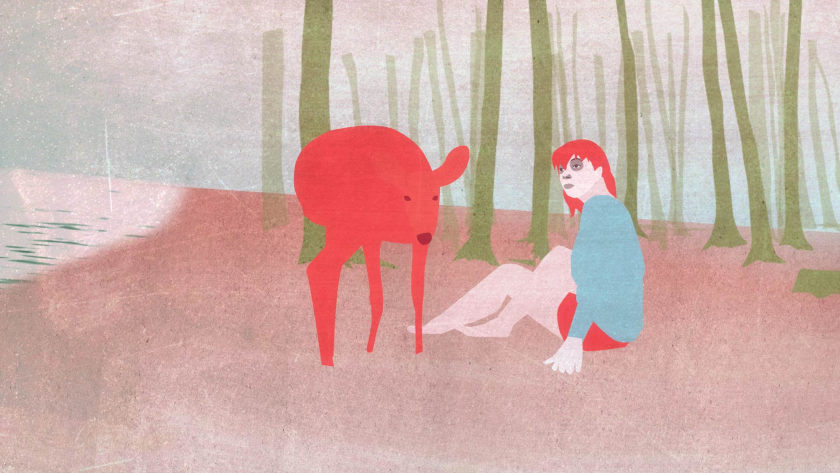 Zippy Frames conducted a Zoom interview with Sylwia, Kubus to find out more about her outstanding and very moving short film.

This film stands out through its deeply affecting atmosphere and intense quality of remembering. Rotoscoped using vivid flat colours, the story follows a woman as she travels to places from her past, remembering and trying to let go of a past love that ended. The visualization is extremely powerful; journeying through the landscape, there is an almost hypnotic sense of interiority and reflection. On reaching her destination, a lake, the woman sees a deer, with which she has some connection.
Polish-born but Berlin-based Kubus explained how the film is self-financed. The inspiration for the story is partly personal and is also informed by the universal experience of letting go and moving on, topics with which she can readily identify.
In starting to develop the love story, she referred to films such as Michel Gondry's "Eternal Sunshine of the Spotless Mind", where the main character keeps returning to the same places in order to not let go of memories; this is in contrast with 'Elsewhere's theme of wanting to let go.
Kubus also cited the surreal dreamlike elements with animals, and relates this to something magical occurring in your life, and responding to this by feeling that the occurrence must mean something. In 'Elsewhere', the main character has a mysterious encounter with a deer, which feels like a point of letting go of the past. Kubus wanted to explore the clash and meeting point between Nature and society, as though of objects coming from two different worlds.
Kubus also drew inspiration from the soundtrack to The Top of the Lake. Kubus went on to explain the key contribution made by the German musician Jennifer Eberhardt.

In terms of the production pipeline, Kubus likes to use rotoscoping for its highly graphic style and flamboyant flat colours. As a solo artist, she was able to work rapidly with this technique, working mostly in After Effects and using a combination of stock footage and shooting her own footage with herself as the actor, broken down to 6fps which introduced a quite dreamy element.

'My stories are very personal somehow…I like being really close to the characters.' Kubus wishes to explore future possibilities of a 3d setup for the face, through facial rigging in DUIK, to possibly tie in with rotoscoping to convey emotions realistically.
contributed by: Joseph Norman
Elsewhere by Sylwia Kubus was in competition at Animafest Zagreb 2021. Find the full film on Vimeo.
Read More About: