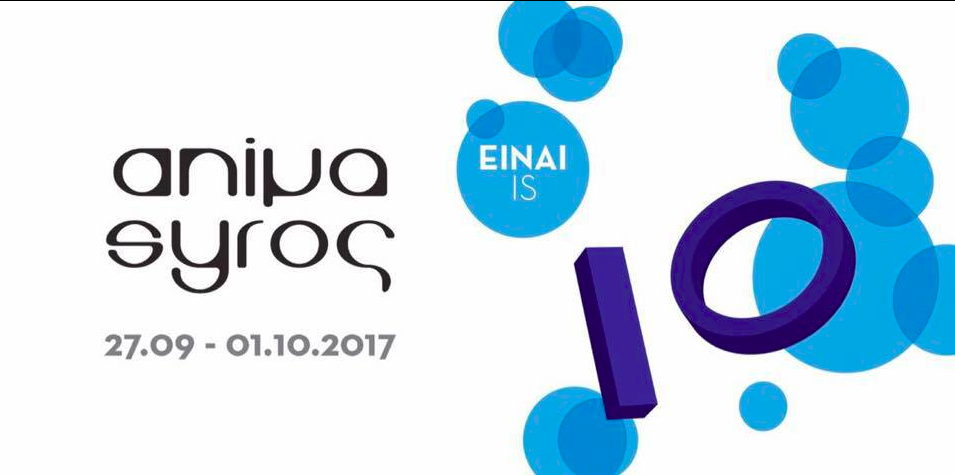 Animasyros International Animation Festival+ Agora  celebrates its 10th birthday; the essential guide to the Greek animation festival follows.
The 10th Animasyros Festival is structured in three pillars; screenings of animated films in competition, special tributes & panorama sections, a number of educational workshops aimed at children, adolescents, young professionals, persons with disabilities and elderly people, as well as the Market (Agora) Section, which includes a pitching forum as well as masterclasses and Works in Progress presentations. 
1. Tomm Moore Masterclass:  Τhe director of The Secret of Kells and Song of the Sea comes to Animasyros 10 to  give a presentation (an insight) into Irish powerhouse studio Cartoon Saloon (Saturday 30/9: 11:00 am)
2. Patrick Doyon Masterclass:  He self-describes himself as an Oscar loser (for the Oscar-nominated Sunday/Dimanche), but Canadian filmmaker Patrick Doyon knows how to entertain with a film.  Doyon will talk about the Intersection between Illustration & Animation (Saturday 30/9, 17:00)
3. The international competition: Films by Koji Yamamura (Parade de Satie), Ayse Kartal (Wicked Girl), Britt Raes (Catherine), and the 2 Annecy-selected films, Aenigma (A. Fatouros - A. Doussias) and Ethnophobia are among Animasyros international competition.Full selection results..

The International Competition Jury: Tomm Moore (IE),  Nancy Denney- Phelps (US & BE) animation journalist & historian & Yagos Antiochos (GR), film critic & Editor in Chief of Athinorama Magazine.  
Student Competition Jury: Erik Van Drunen (NL) animation film curator & animation lecturer at LUCA School of Arts in Brussels & FIlm Academy in Amsterdam, Carlo Vogele (LU) multi-awarded animator, Myrto Lavda (GR), Head of Educational Programme at Stegi Onassis Foundation & Charalambos Margaritis (CY), visual artist and animator.

4. Europe as a theme: Evropi: 28 Animation Narratives for Europe.  A special screenings programme from the 28 EU countries , and a roundtable highlighting the current state of affairs in the European Animation Industry. The Italian Beauty by Rino Stefano Tagliaferro,  the Slovenian  Nighthawk by Spela Cadez, and the Danish Black Tape by Michelle and Uri Kranot among the screened films.
The roundtable (organised with the support of the EU Commission Representation in Greece) will focus on the challenges and opportunities that the common European identity and the European Union offers to the art of animated film.
5. Focus on Luxembourg:
The Oscar-awarded 
Mr. Hublot
(
Laurent Witz and Alexandre Espigares), Wurst by Carlo Vogele, and the Edgar Allan Poe adaptation
Extraordinary Tales by Raoul Garcia (prod: Melusine Productions) are among the lineup.
6. Focus on Brazil:
The Oscar-nominated Boy and the world by
Alê Abreu
, and the Annecy-awarded feature Rio 2096: A Story of Love and Fury (Luiz Bolognesi) are hosted, but also short films (among them: Guida by Rosana Urbes,  Darth Vader meets John Williams by  Thiago Calçado)
7. Blu: A tribute that explores the line between Italy & Greece
. Bruno Bozzetto (Europe vs. Italy), Stelios Polychronakis (The Village), Virginia Mori (The Haircut) figure in the selections.
8. The Agora section, the most promising festival section. 5 Greek and Cypriots projects will be pitched (Voyages - Kleopatra Korai,The sea tranced isle-Effie Pappa, Man Wanted-Irida Zhonga, Sevarambes- George Kontos, Faidra Vokali, My name is Igor- Marie-Margaux Tsakiri-Scanatovits, Dave (David) Prosser Mentor – What else than a tragedy? Angelos Rouvas). Check out the masterclasses  by Erik Van Drunen ("Perfect pitching"), Aliki Theofilopoulos ("pipeline of an animated film production"),  Vicky Micha (" How to package your film for international financing")
9. The Greek premiere of the Norwegian-Polish rotoscope documentary animation, The Man Who Knew 75 Languages (Pawel Debski, Anne Magnussen), as well as the Van Gogh mockumentary, Loving Vincent (D. Kobiela, H. Welchman)
10. The Stéphan Roelants talk  (Melusine Productions / Studio 352) "Animation, a Vital Vehicle for Cultural and Social Education".


The 10th Animasyros Festival takes place 27 September - 1 October 2017 in Hermoupolis, Syros, Greece. All screenings as well as all other activities of the festival, including accreditation is free for participants and the audience.