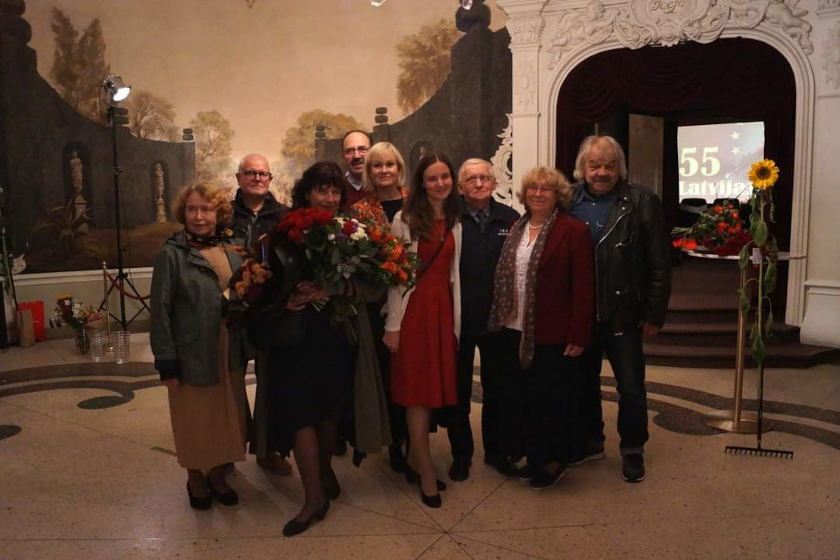 Vassilis Kroustallis talks to Latvian puppet animation director Dace Rīdūze on the history, the present and the future of prestigious studio Animācijas Brigāde.
Latvian animation director pioneer Arnolds Burovs (Cock-a-doodle-doo! 1966, Cosette 1977, A Dream 1983 and many others) are a delight to discover and re-discover in the big animation scene. Yet Burovs has also been responsible for setting the industry standard for stop-motion in his native country. Animācijas Brigāde animation studio was founded in 1966, and it now celebrates 55 years of existence, and more than 140 stop-motion puppet films.


Number are impressive for this Baltic country, but we wanted to go for more than numbers. We asked director and puppet animator Dace Rīdūze (Firefly 2003, Sartulis 2014 amongst her directed short films) to guide us through the history and the legacy of the studio."Figuratively speaking, I represent the 'grandchildren' generation of Arnolds Burovs' Latvian puppet filmmakers', Rīdūze states. 'Arnolds Burovs decided to create the first animated film in Latvia and it is a great joy that it was a puppet film 'Kikerigu! [Cock-a-doodle-doo!) in 1966. 'This event marked the beginning of the history of Latvian animated film, which is constantly developing, improving, and creating surprises'

Burovs was not all by himself. A carefully chosen team of artists like Gunārs Cilītis, Arvīds Noriņš, Pēteris Trupa, Anna Nolendorf, Gediminas Kotello were first associated with what later (in the 1990s) came to be Animācijas Brigāde studio; the studio name was based on the name of one of its most successful short films series, 'Avārijas brigāde 'Rescue team' (1990-2010). 'When I started working at the studio "Animācijas brigāde", Arnolds Burovs had already finished his active career in the field of cinema', Rīdūze will note. 'But he used to visit the studio, and was interested in upcoming films'. She describes him as a bright personality but with a definite opinion and direct (and extremely sincere in his remarks).
Rīdūze's own teacher was Latvian director
Jānis Cimmermanis
, who joined the team of Arnolds Burovs in the mid80s; Cimmermanis is responsible (in tandem with Latvian artist Māris Putniņš) for the second stage in the history of "Animācijas brigāde"; this includes the above-mentioned 'Rescued Team'children animation series, with its impressive line-up of 26 puppet films over 20 years. Starting as a puppet animator herself, and coming from the textile art, theater directing and pedagogy educational background, Rīdūze is quick to acknowledge her debt to Cimmermanis as a teacher and a mentor ('he has given me the support, the strength and the courage to do my own films').

Today, Animācijas brigāde employs 18 people; a producer, 4 puppet makers, a set designer, a set builder, a puppet sculptor, 3 cameramen, 3 animators, an accountant, film manager, and a special effects designer. There are also four films directors, which alternate with being puppet animators on their colleagues' own films as well ('film director Ēvalds Lācis, for example, is also the main cameraman of the studio'). Rīdūze emphasizes that the strength of the studio is that all the functions related to the making of the film are performed by a set of professionals. The group work and the family character that the studio imposes as almost a case of it own DNA should account for the character those films bring to the big screen in turn; a family with sometimes quirky members, but passionately attached to each other.
Family does not imply homogeneity. 'Teamwork is a constant exchange of views, and there is not always mutual agreement; someone's mistake or delay has an effect on another team member's job'. Director and producer  here really need to be able to communicate and persuade their ideas to the others, without micro-managing every simple detail; the studio encourages individual vision, but tests its application to the other creative departments of making a film.
The longevity of the studio has surely led to some drastic changes when making a film; even stop-motion itself has now entered the digital age. 'I had the opportunity to learn the skills of an animator by filming with a film camera, where every movement of the puppet had to be memorized. If even a small error occurred, the footage had to be re-shot. We moved flying objects in the film scene hanging in the finest threads, which should not be visible in the frame. This experience has given me a lot of confidence that everything is possible in animation', Rīdūze notes.
Would that hold up in the age of Dragonframe and related software? Rīdūze insists that the tools offer additional possibilities, but its meaning is not effective if the animation basics have not been mastered. There have also been changes in the materials of puppet making (' there is a greater variety, variety and quality of paints, glues, foam, yet the basic principles of puppet making have been preserved'). She also credits studio puppet sculptor
Ilze Kiršteina
for achieving the real range of emotions in the puppets' expression.
Each film presented and still presents its own troubles. ' One of her latest films, 'Pea children' revealed a wonderful way to create running water ('it was such a painfully awkward task before'). In Rīdūze's new, 20-minute puppet environmental film 'Angry Bag' (Dusmukule), she had to animate small plastic bags that are not built with a skeleton frame like a traditional puppet; she now ticked the box on that task as well.
Watch the Angry Bag trailer:
The studio doesn't live in the past. 'At the moment, we have mastered a new puppet head-making technique, where we use the advantages of a 3d printer. It also allows us to create a variety of equally perfect details. Combining a variety of subtle special effects with traditional animation also enriches creative solutions'. But it is still the handiwork that creates the puppet charm of Animācijas brigāde.

The film's short puppet films usually take one year from funding being secured to completion. Co-production possibilities are open, and more opportunities now appear to present the projects at various industry events. Even though 'The Rescue Team series' is very popular in Latvia (merchandise were sold, and the largest children's amusement park is also called 'The Rescue Team' park') private sector support has grown less in recent years; state support remains the same throughout, but with new players in the animation field and an increased competition.

This will not by itself deter the studio; Dace Rīdūze''s 2001 heartfelt film 'Firefly' (Jāņtārpiņš), her own favourite, was selected at the Berlin Film Festival, and was the most screened Latvian film globally in 2001 ('many young children told me they will not go to bed in the evening withoutrepeatedly watching Jāņtārpiņš'). Rīdūze and Animācijas brigāde have a constant presence at Berlinale, with films like 'Acorn Boy' (2011), 'Sartulis' (2013), 'Vasa' (2013, directed by Jānis Cimmermanis), 'Wonderful Day' (2010, directed by Nils Skapāns) regularly premiering at the Generation section of the festival.
'In my opinion, animation is the closest to children's audiences of all types of cinema', Rīdūze states. 'And it offers such a variety of possibilities - it can have animals, insects, objects, both operating with people and in their own environment'. Rīdūze has directed so far 15 short puppet films, including one film of 'The Rescue Team' series ('Cats'). Her debut film, ' Up and down' (Kaimiņu būšana, 2000) came from the series 'Animals', a series, which had itself a script and developed visuals; she acknowledges a lot of challenges faced, but also cherishes the team work. 'My closest topic for a film script is where, with the help of a relatively simple story, I can discover an unusual hero, his revelations, building its relationships in an environment that is right next to us, but at the same time hidden from us. That is why my films are about insects, pencils, peas, dust. These are adventurous stories for young children and the whole family'.
For several years, the studio has been organizing workshops for children, and film lectures, in which its team introduces young viewers to the behind-the- scenes of puppet film, the secrets of creation. 'Making children's films is a very responsible and serious decision. These films are often the very first cinematic experience for a small audience, so you need to think about every nuance'. The many visual stimuli today's children get from a lot of various sources create a fast-paced visual environment, yet Rīdūze persists that the story itself can gain the children's attention. 'Often the simplest stories about very mundane characters fascinate and excite children more than trying to surprise them and surprise them again and again. Today's children know a lot about the abilities of aliens and superheroes, but they can have a wonderful discovery of a little insects' life'.

Her new film, 'Angry Bag' (2021), was presented as a work in progress at the recent Riga International Film Festival. 'The idea for this film came from reading Agneses Vanaga's book 'Plastic Hooligans' with my own kids, which had already gained popularity in Latvia. It is a very attractive story about two brothers who encounter a torn plastic bag, which turns out to be alive'. The lovely puppet film is a look into the world of plastic waste and its interaction with the human world; but mostly about routine and daily habits, which desperately need to change.


Animācijas Brigāde has also an animation feature currently in production 'Henry the Great', directed by Jānis Cimmermanis; the film is based on the children's adventure novel 'Wild Pies/ Mežonīgie pīrāgi' by Māris Putniņš, and introduces us to the world of culinary products. This is also an opportunity for the studio to train and test young animators and artists, since the needs for an animation feature are definitely bigger ('the most enthusiastic of them then become permanent employees of the studio'). Some schools with animation components in their curriculum also send trainees to the studio to learn more about the specifics of puppet animation.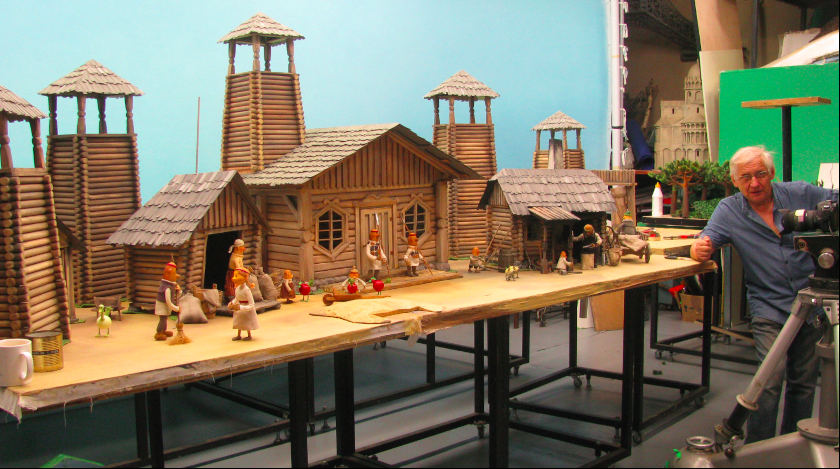 Henry the Great in Animācijas Brigāde

' I have a special idea', Rīdūze will confess, 'that there are no unimportant details in the animation. Everything is important, because every detail will be visible on the screen. Starting with the animator's own emotions, which are transferred to the puppet, both in the film set of every neatly fixed details, care for the puppet's costume, hand cleanliness, even a small plant, which can be seen perhaps far behind the window in the scene'. She herself cherishes, after 23 years of work, the tactile feeling of animating the puppet and bringing its own life by a person's own hands; and she will not forget the creation of sounds and connecting the music with the image ('at that moment the story of the film takes me on another dimension').
Animācijas Brigāde is self-described by Rīdūze as 'a film studio with a rich history, a strong culture of filmmaking traditions and the best professionals in their field - this is our strength that has allowed us to survive these 55 years'. She herself asks the filmmakers to make as many diverse animated film as possible; and she wishes for more enlarged funding schemes and an even bigger audience for indie animation. She's also keen to provide in one sentence the best practices for animation and, at the same time, the practices followed by Animācijas Brigāde: 'Eye for detail, diligence, perseverance, discipline, creativity and a strong team'. The studio's deservedly rich history of puppet animation filmmaking just follows as a result.
The interview was conducted in partnership with Latvian Animation Association.