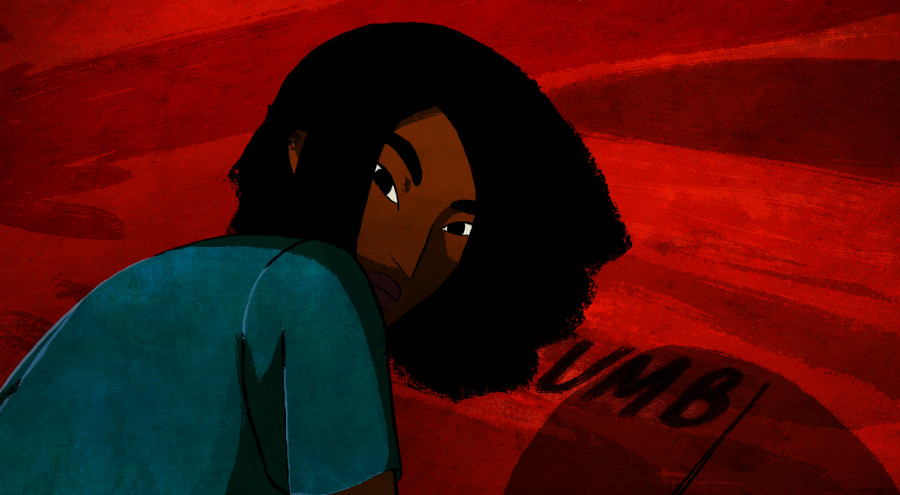 Zippy Frames Correspondent Eliane Gordeeff meets Portuguese animation director José Miguel Ribeiro at 3DWire to talk about his first animated feature film.
Nayola was written by Virgílio Almeida and is based on the dramatic Portuguese text by Mia Couto and José Eduardo Agualusa entitled The Black Box. The animated film is a production of Praça Filmes, S.O.I.L, JPL Films and il Luster,and is supported by the ICA – Cinema and Audiovisual Institute of Portugal.
Angola. Three generations of women: Lelena (the grandmother), Nayola (the daughter) and Luana (the granddaughter) deeply plagued by civil war. The imagination of an orphan girl reinvents her mother as a heroin on the sheets of a journal, where memories and masks, utopias and cruelties, reality and magic emerge, mesh together and fall apart. A suspended love, a fearless quest on a military landscape, a lacerating regret, an initiatory journey. In the end, a tragic reunion during peacetime, in a country undergoing a true metamorphosis, pregnant with hope.
ZF - What is the history of this film, what motivated you to realize it?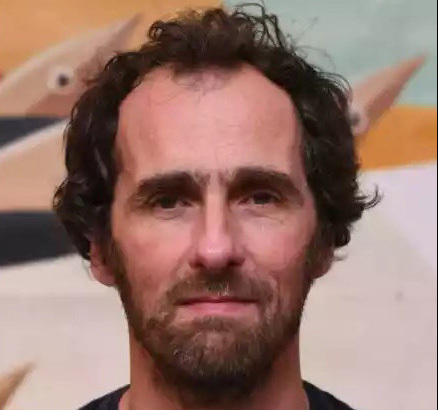 JM - I have never had the idea of making a feature animation film on my own initiative. It was a kind of challenge that was launched by a friend, Jorge António, who lives in Angola for over 20 years, and works with documentary and live-action fiction. He showed me a play by Eduardo Agualusa and Mia Couto, Caixa Preta (The Black Box), and proposed that we make a film together: he would be responsible for the live-action part, and me, for the part in animation. So, I thought, that it was possible ... it was not a feature animation, but something closer to my short A Suspeita (The Suspect, 2004), around 20 minutes of animation. The story is a Virgílio Almeida's adaptation from the play, and shows of two moments: Nayola's journey through the interior of Angola (during the civil war and that was totally written by Virgilio), and the other dramatic one, that occours in the house, which is closer to the play.
From the synopsis, we presented the project to ICA for development financing and it gained the support. We started thinking about the production and went to Cartoon Movie to show the project, which was well accepted.
After two years, we were integrating real image and animation into the trailer, but we realized that it was forcing a situation with these two components... they were not connecting in a way that suited us, so we cut off the live-action part. We also thought to do the whole fim in animation.

ZF - And did live-action image die?
JM - It died, (laughs). To make the film with the two images we would have a problem in distributing, ... there were many complements that we did not dominate, ... we do not have any experience from a previous feature film ... To handle with two animated techniques is already quite complex. And we were worried about the production visibility, that has a greater circulation space than short films ... we wait this, without many expectations, because we know that it is not a very commercial film. So, that's the point where we are today.

The film tells the story of a woman, Nayola, who goes to the interior of Angola during the civil war, in search of her husband who was reported missing in combat. At the same time in the present, her daughter and her mother, who live alone with each other, one night have their house invaded by a masked intruder. This character who seems to be a thief, has his origin revealed as the story goes on. It is the story of three people who do not know each other, but in the end, it links to Nayola's search of her husband story.

That's something I wanted to show: women are not just passive or just in only one side. Many women went to fight in Angola since the war against the Portuguese occupation. And Nayola being a woman, will enter a world made of war, I want to show this to the audience. As well as about this family, the motivations of these three women, in a country where democracy is in construction and how they contribute for this. In one side by defending what they believe, their values and the relationship with the people close to them. On the other side how they contribute to construct the country that everyone wants ... in a country like Angola which has important natural resources, it is obvious that everyone think: "if we could share this wealth with everyone, we could all live better!" And this is not such a distant utopia ...

ZF - What were the choices you had to take, and the difficulties you found over the course of work?

JM - My challenge is to direct a feature animation that is an international co-production with four countries (Portugal, France, Belgium and Holland), trying to maintain a human scale in production... working with small teams in each country, which will contribute with 1/4 of the animation for the film. And I must be careful with the labor division, not to compromise the quality or continuity of the story. However, as there are narrative moments which are well apart, even produced in different places, no difference will be noticeable. We have to be careful with the three main characters. The others come and go into and from the story ... like a road movie.

ZF - How did you find the partners for the production? What on the project caught their attention?

JM - Well, I'm working with partners I already know. S.O.I.L (Belgium) and il Luster (Holland) have already produced Passeio de Domingo (Sunday Drive, 2009) with me. JPL Films was born in 1995 after the 9 months formation lead by Jean Pierre le Moulin and Abi Feijó for a group of 12 Portuguese and French authors that I had the chance to attend. That is important: they are producers with whom I have a relationship of trust, we share the same values, the same artistic values ... they come from short film productions, they are producers who are there for the art, and not for industry - which for me would be scary ... (laughs). I mean, they have an artistic ideal, they believe in the work, and that despite the problems that we are going to face, they will privilege the artistic side of the film. And of course there will be financial and technical issues, which is normal.

ZF - Of course. And about the aesthetic aspect of production,  is it already defined or is it still in process?

JM - There is a part that I presented in the pichting, which was made more than two years ago, and I will modify it. At present, the aesthetic work is very close to illustration. The graphics, the texture, the very strong color, they are two-dimensional spaces with great visual impact. That's interesting, but animation is movement. So, for example: a character who is two-dimensional, if he needs to turn, we have to find solutions to these questions.

ZF - Relativelly to other productions, which ones would be closer to what you intend?

JM - In terms of character design and atmosphere, the Argentinian short El Padre (The Father, 2013) is a reference. We are looking for this crudeness and simplification of forms. At the same time, there is a shadow work, there is an expressive strength of the character even when she does not speak. And I like working the characters, and she's a very well-built character. Good characters speak less. I believe dialogue is important, but I privilege visual communication. If we get characters as in "A Suspeita", characters who presented themselves, they did not have to speak much. And we are talking about Africa, a place with a rich past in the construction of masks, where one can also take as inspiration for the film. I will not abdicate of it.

ZF - I liked the result of the grandmother´s face ...
JM - It's a way that I like to work on that is the simplification of the images. If I can say more with less, we win something. If I take off a puppet eyebrow and put back some volume, I get a shadow there and we do not need the eyebrow anymore! ... but in 2D it helps us a lot to give expression to the character.

ZF - What do you expect from this film?

JM - Well, we had a research work on the recent history of Angola, on the civil war, ... I watched a lot of videos of Angola's rappers, from a generation that was not born in the war, and that does not accept well the discourse of the old people that, "war not, it is better to live under injustice than in war". They are discontented, they do not accept this state of affairs even if war is not an option, and I want to somehow show it in the film. So, the story that  only happened in the past, will show an Angola of today, even if we have to justify some dates and events of history.
I also had read a book ..
War's Unwomanly Face
, by
Svetlana Alexievich
- a Belarusian who won the
Nobel Literature Award
in 2015 - a set of interviews of women who faced WWII. It is a testimony that women see things in war that men do not. And the author points out: when a man speaks about the war of the past, he praises values, the won battles ..., in other hand, women report the horror, how it was to go through it all ... and this is exactly what interests me: a more feminine approach, a look that adds something more to all that has been done about the war.
And women participation, too. I am not aware if you know, but the Angolan Parliament, with all the problems that it may have, has a 26% women participation. No wonder this happens. It is a reflection of the strong participation of women on both sides of the war. For me, it is a goal to show this, because that is a truth not valued.
Another thing: I'm talking about a country that is not my own, so the film will always be a vision from a outsider. That's why I need to know more and more about Angola, for that vision became less superficial about its human reality. We will record the film's dialogues in Angola. They have great musicians and we discovered a rapper,
Medusa
, which is spectacular. Her ability to improvise in the rap bouts is phenomenal... we have her in the movie. I'm interested in this side ... we have a script, a text but mainly, we have intentions. I want a film that takes us to Angola.
ZF - It's the sensitivity ... and this reminds me of what Alê Abreu tells about The Boy and the World. He also had a good idea, nothing very well defined, and because of that it was hard to "sell" the project. It is the creative freedom of all creation that goes on throughout the process ...
JM
- Yes... it is something that happens in real image films. One has an idea of how will be the film, which is born through the filmmaking. Godard said, "If I knew what my film would be, I would not even film it!" What is interesting is discovering it in the process.
Of course, in animation we have constraints, because it is a slower and more complex process, ... if we do not have everything very prepared, we run a risk of failure.
Well, now we are in the animatic phase. We talked to the co-producers, we made some changes and we will have an animatic closer to what the film will be. However I know that after recording the dialogues, I'll need to make more changes. For example, we will film the conversation of three rappers, that is spontaneous (they talk about the situation in Angola), and I would like to use that, because it is not possible for me to write about it. And I realize that this creative step of freedom can enrich and modify the film.
ZF - Yes, and Including the rappers' own movements you can use as a visual reference ...JM
- Absolutely. We will film the people during the voice record to dialogues. This will be a reference to the animators for the characters movement. There is a time, a body rhythm that is different, even from the Angolans who live in Portugal.
ZF - In terms of schedule, you are in pre-production and then ...JM
- Actually we are in the development period. We should go into pre-production in early 2019, when we intend to have a trailer, and develop this stage throughout the year. Each participating country will have a different time, where Portugal advances ahead. We need to close the four teams, prepare a more detailed animation bible, lay-out .. it will be done in Portugal to maintain a visual unity of the film as a whole. We should move forward with production in September, at the latest.
José Miguel Ribeiro (1966) is a director, illustrator, teacher and father. In 2000, with his 25-minute film The Suspect, received the Cartoon D'Or. In 2012 founds, with Ana Carina, the production film company Praça Filmes. In the last few years he directed the stop-motion TV series for children entitled Home things, the short film Sunday Drive, the short film Journey To Cape Verde and the short film Fragments, this last one was selected to short-film competition at Locarno Film Festival 2016 and received the prize "Best documentary" in Clermont-Ferrand Short Film Festival 2017.
CREDITS:
Directed by: José Miguel Ribeiro
Script: Virgílio Almeida based on the play "A Caixa Preta", by Mia Couto and Eduardo Agualusa
Legal Advice: Alexandra Fonseca (ConsulArte ®)
Producers: Ana Carina Estróia, Geert Van Goethen, Linda Sterckx, Camille Annie Cathebras, Jean-François Bigot,  Arnoud Rijken, Michiel Snijders  
Production assistance: Rosinda Sousa
Accountacy: Olímpio Galvão, Alam Sousa
Production: Praça Filmes, S.O.I.L, JPL Films and il Luste
The interview with José Miguel Ribeiro was conducted during the 10th edition of 3DWire Animation, Video Games and New Media Market, 4-7 October 2018.
interview by: Eliane Gordeeff