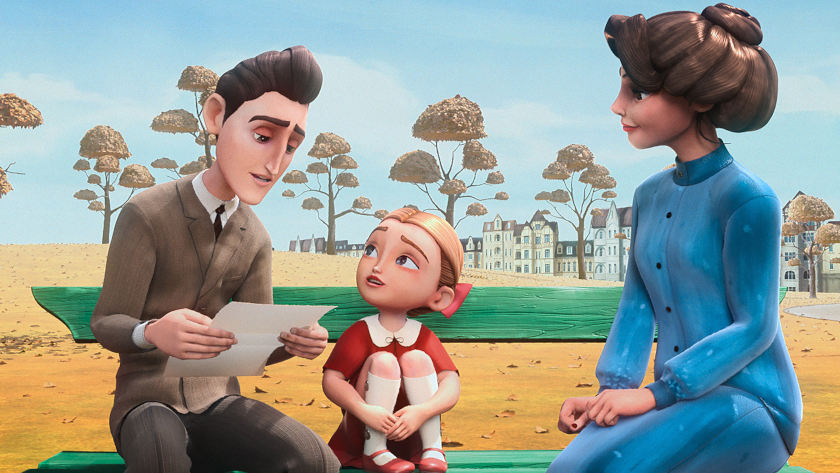 Details

Vassilis Kroustallis
A new aspect of Franz Kafka in the indie animation short 'Kafka's Doll' by Bruno Simões. Find his interview at Zippy Frames, and watch (exclusive) the trailer for the film.
What can be said and viewed of Kafka that hasn't already been said, viewed and done? Barcelona-based animation director and artist Bruno Simões set out to prove there's still news under the sun, with his new 3D/2D animation short, 'Kafka's Doll' (production: Animanostra, WKND, Lusco Fusco Animation, Studio Kimchi).
The 11-minute film is based on the urban legend of the celebrated writer and a girl who lost her doll, when Kafka was living in Berlin with Dora Diamant. According to the legend, Kafka found a girl crying in the park, complaining about her lost doll; to console her, Kafka started to write to her letters about her doll's adventures (these letters were never found).
When an ill Kafka meets a crying little girl in the park, he sets out to write her a letter a day in order to tell her all about her lost doll's fictitious travels. He then comes back every single day to read her those letters, and in his quest to help her find a sense of personal resolution, he ends up finding his own in ways he couldn't have previously imagined - Film Synopsis
Bruno Simões has his share of experience of the big-budget studio world (he worked and designed action sequences for 'Skyfall', 'Prometheus', and worked at Blue Sky Studios on 'Epic', 'Rio' and 'Ice Age 5'). Yet he chose to work in the independent media format for his new animation film (his other indie work include the short 'Sugar Girl', 'The Doctor's Wife' and many other commissioned works).
He first got hooked onto this story when reading (in 2006), Paul Auster's book 'Brooklyn Follies'. Simões had been a fan of Kafka all along -yet this aspect in his late life had eluded him so far. 'From this moment on I kept thinking that maybe I could do something with this story, but wasn't really sure in which direction to go in, so I started researching and reading all Kafka biographies I could find'. He made his own research, both in fact, myth and fiction. 'The most important book in my research was 'Kafka's Last Love' by Kathi Diamant, which described this period in more detail, although all of the different books informed me about many other little details that ended up in the film'.
Watch Kafka's Doll trailer:
Kafka is a huge figure, and his stories have become an inspiration for many artists -including animation, with films like A Doctor's Visit (2007) by Koji Yamamura, and the upcoming 'Kafka in Love' by Zane Oborenko (read her interview). So, what kind of new ground Kafka's Doll is going to cover?
"This was a Kafka story that wasn't Kafkaesque', Simões will emphasize. ' His name became an adjective related to the mood and feelings that he mastered so well in his writing; but once he met Dora he seemed more at ease, and the way I understood it, she enabled him to do things he always wanted to do but never had the courage to, like moving to Berlin for instance. So this different side of Kafka was what led me to tell this story, and served as the foundation for the fictional story in the letters'.
The first version of the script dates back to 2009; Simões was living in London then. 'I saw this as a special project and didn't want to rush it, so after each version I would read another Kafka biography, write down any notes I found relevant, and then do another pass of the script'. 2014 marked the beginning of the development for the project. The director met in 2015 producer Humberto Santana from Animanostra (Portugal), and he signed up for the project; in 2016, producer Roger Torras from WKND (Spain) also got on board. As always with indie animation shorts, funding is not immediately forthcoming. 'In the meantime we kept doing pre-production in a collaborative way, with many great artists contributing with their time and talent. Amongst the people helping us with the short film was the animation studio Lusco Fusco Animation (Portugal), they did all the character rigs for us, and then later joined the project as co-producers, with Celine Fernandes as the producer'.
The film describes Kafka's Berlin in 3D animation, while using 2D animation for the doll's adventures. 'There was always a conscious decision to have two different looks to separate the two realms', Simões notes. 'At some point, the idea was to do the doll's stories in CG cut-out animation with a flat look, this was mostly to stay in my comfort zone'. Yet the Animanotra production team secured a smooth animation style for the 2D animation sequences.
The transition between 2D and 3D animation is almost effortless in the film, like turning a book page. 'This decision has been inspired mostly by independent 2D animation, where the action just flows continuously without cuts, and backgrounds morph into different backgrounds', the director elaborates. 'With GG animation this is not as easy to achieve though, so I ended up having to rely more on transitions in order to get this flow in the editing of the film. All this was carefully staged during layout, and then we committed to these camera shots throughout the entire production, both on the 3D and the 2D sequences'.
The Curse character is central in the film, and navigates between both worlds. 'I always imagined it like a cloud of dark turbulent smoke', Simões explains, 'where you could only see its actual shape when it stands still and all the smoke gets closer together and tighter. We tried with different designs and in the end went with solid skeleton hands and skull together with a smoke body'. Lead character designer José Manuel Fernández Oli did the initial sketch, and this served as the starting point for the final design by Javier Castillo. Animating the Curse proved also to be tricky. 'Even though the character is made of smoke, we modeled a solid body and a cape that we rigged as we would rig any character, so we could see what we were animating'. The actual smoke FX for the curse were done by Lusco Fusco Animation: they did cloth simulation of death's cape; Houdini was then used to emit a stylised curly smoke from both the body and the cape, still conveying all the details in the animation.
The two worlds in Kafka's Doll needed a different conception in the art direction from the start, and the question of realism vs. stylization surfaced. 'For the real world we grounded our designs in the actual locations as much as possible. During a visit to Berlin I took tons of photographs of Steglitz Park, which served as reference for the park's set and prop designs'. Kafka lived in three different Berlin apartments during that period, which also served as reference. 'The sanatorium was based on the Kierling sanatorium in Austria, where Kafka died; the train design was based on a train from that period that I photographed at the Berlin Transport Museum'.
The Doll world implied a different kind of feel. Art director Cecilia Puglesi designed its buildings (inspired by Prague watercolors by Václav Jansa from that exact period) with the intention of giving that world a more storybook feel.
Music by Aurélien Vieira Lino is sweeping throughout the film, with its string elements. Bruno Simões had already met him at the early stage development of the project; during the project's gestating period, they collaborated on other projects, mostly commissioned films. 'I wanted the soundtrack to be timeless and to feature a string quartet, and Aurélien came up with an amazing original score consisting of a string quartet, a piano and a double bass. We got to record the soundtrack and then perform it live during the first private screening of the film'.
The first (private) screening of the film took place at the Cinanima festival in Espinho (November 2021); the film is now ready for its international festival premiere, being itself an international endeavor in terms of production and talents. 'Animation is definitely a universal language, and the range of stories you can tell with it knows no limits', Simões comments.
Simões (now busy with a couple of indie animation projects in development) is curious about the audience reception to Kafka's Doll. 'I think this film is suitable for everyone, though I wouldn't call it a family film; even though my five-year-old son has watched it a few times and enjoyed it, there's quite a contrast between different scenes that makes it hard to define. I guess time will reveal who its perfect audience is.'
That said, 'Kafka's Doll' is inviting you to a world which is both unfamiliar to Kafka's readers and yet more empathetic and compassionate. Time to get it on the big screen.
About Bruno Simões
Bruno Simões is a Barcelona based animator and filmmaker. He has has directed several independent short films as well as commissioned animated films for clients such as the United Nations, Ad Council, Polaroid, Lego, Nutella, Ted Ed or Southeastern Guide Dogs, which have been screened and awarded at prestigious animated festivals around the world.
CREDITS:
Kafka's Doll / Written and Directed by Bruno Simões
Producer: Humberto Santana | Production Companies: Animanostra, WKND, Lusco Fusco Animation, Studio Kimchi | Financial Support: Instituto do Cinema e do Audiovisual, Instituto de la Cinematografía y de las Artes Audiovisuales | Executive Producers: Humberto Santana, Roger Torras, Celine Fernandes |  Art Director: Cecilia Puglesi | Lead Character Designer: José Manuel Fernandes Oli | Animation Director: Emanuele Pavarotti | Modeling Supervisor: Ramón Lópes Seco de Herrera | Music: Aurélien Vieira Lino
Cast: Dora: Sandra Barata Belo, Franz: Filipe Duarte, Katie: Frida Alcalde Miranda, Boneca: Filipa Areosa | Production Coordinators: Carlota Pou, Andrés Mas, Elena Rapondzhieva | Character Designers: Javier Castillo, Ana Gomes, Annlyn Huang, Estrela Lourenço, José Manuel Fernández Oli, Cecilia Puglesi | Set Designers: Serena Ferrone, Daby Ihsan, Sandeep Menon, Cecilia Puglesi | Wardrobe Design: Juan Carlos Olmos | Storyboards: Emanuele Pavarotti, Laura Portolés | Color Keys and Backgrounds:Cecilia Puglesi, Regina Insenser | Character Lead: Sabina Suárez | Character Modelling: Juan Carlos Nava Contreras, Clara de Prado, Sabina Suárez | Set and Prop Modeling: Joaquín Alme, Sarah Desor, Alejandro Gázquez, Jesús Guach, Philip Halsey, Ramón López Seco de Herrera, Juan Carlos Nava Contreras, Marta Padilla, Laura Soriano | Cloth Modeling: Julio Fernández, Marta Duarte | Textures Artists: Ignazio Acerenza, Sarah Desor, Eva de Prado, Dídac Ruiz | Rigging Supervisor: Tiago Beijoco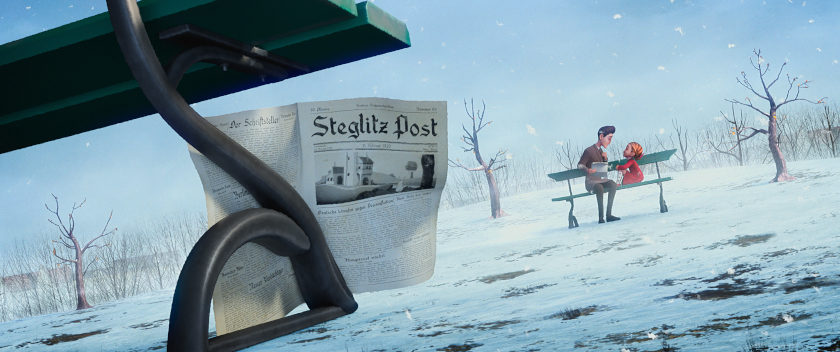 Character Rigging: Andrea Lazkanotegi, Marco Baldi, Rubén Fuentes | Prop Rigging: Diana Araujo, Ivan Caridad | Layout: André Ferrão, Bruno Simões | 2D Animation: André Ferrão, Osvaldo Medina, Emanuele Pavarotti | 2D Painting and Technical Direction: Luís Canau | 2D Effects: Mir Ural Noorata | 3D Animation: Toni Buenavida, Sérgio Dias, Deyan Georgiev, Gergina Georgieva, Kae Hwai Tan, Florent Limouzin, David Mourato, Erin Natal, Emanuele Pavarotti, Max Puentes, Nikky Quek, Charlotte Ramirez, Gabriele Ranfagni, Ekaterina Shvedova, Tim Suarez, Florian Tappeser, Rita Teixeira, Robin Thiriet, Dave Vasquez, Juan Carlos Vigil | Cloth Simulation: Anna Reczynska, Adrián Cuella, Marco Baldi | 3D Effects: Diego Gortazar, Christian Hagbarth, Duarte Vitorino | Lighting: Aina López | Compositing: Bruno Simões
Lusco Fusco Animation: CEO, Pedro Domingo | Executive Producer: Celine Fernandes | Business Operations Coordinator: Luísa Alvão | Editorial: Inês Vila Cova | IT & Systems: Miguel Peixoto | CG Supervisor: Carlos Cidrais | CG Lead: Francisco Paim | Animation Lead: Max Puentes, Shaun Freeman | Sequence Compositing Lead: Christophe Dehaene | Lighting: Hugo Martínez, Alexandra Portero | Software: Irakli Kublashvili, Santiago Montesdeoca
Musicians: Cello: Luís Azevedo, Viola: Bárbara Bernardino, Mariana Moreira, Violin: Daniel Bolito, Carolina Campos Costa, Double Bass: André Carvalho, Piano: Aurélien Vieira Lino | Music Recorded at: Centro Cultural e Congressos das Caldas da Rainha | Recording and Mix: João Luís Nunes | Mix: Aurélien Vieira Lino | Sound Design: Bruno Oliveira | Final Mix: Aurélien Vieira Lino | Scratch Dialogues: Alice Cozza, Tika Peucelle, Delia Spatareanu, Jacob Woods | Dialogue Recording: Aurélien Vieira Lino at Timbuktu Studios, Lisbon / Carlos Loureiro at Riomar Studios, Rio de Janeiro | Walts Choreography: Isadora Ribeiro, Hugo Martins

Animanostra Producer: Humberto Santana
Production Coordinator: Manuela Costa | Sound Editor: João Penedo | Accountant: Ana Santos / Contimporta | Colour Grading: Moonlight Barcelona |Colourist: Emilio Sacco | Colourist Consultant: Ignasi González Insa | Online: Jorge Fuenmayor | Postproduction Director: Alejandro Matus | Postproduction Manager: Indira Martín | Laboratory Producers: Marc Rosés Bartés, Jordi Mir Vidal
Thanks: Jorge Bazaco, Juliane Block, Zach Campbell, Filipi Do Canto, Renato Falcão, Julia Francino, Piet Kroon, Beatriz Leitão, Iker Maidagan, Sofia Miranda, Emilio Ramos, Mariana Ricardo, Joey Rositano, Carlos Saldanha, Patricia Sequeira, Adam Valdez, Chris Wedge, Jason Wen |  Partners: Half Moon Theater, Hit Management, Centro de Cultura e Desporto de Olivais Sul, Centro Cultural e Congressos das Caldas da Rainha