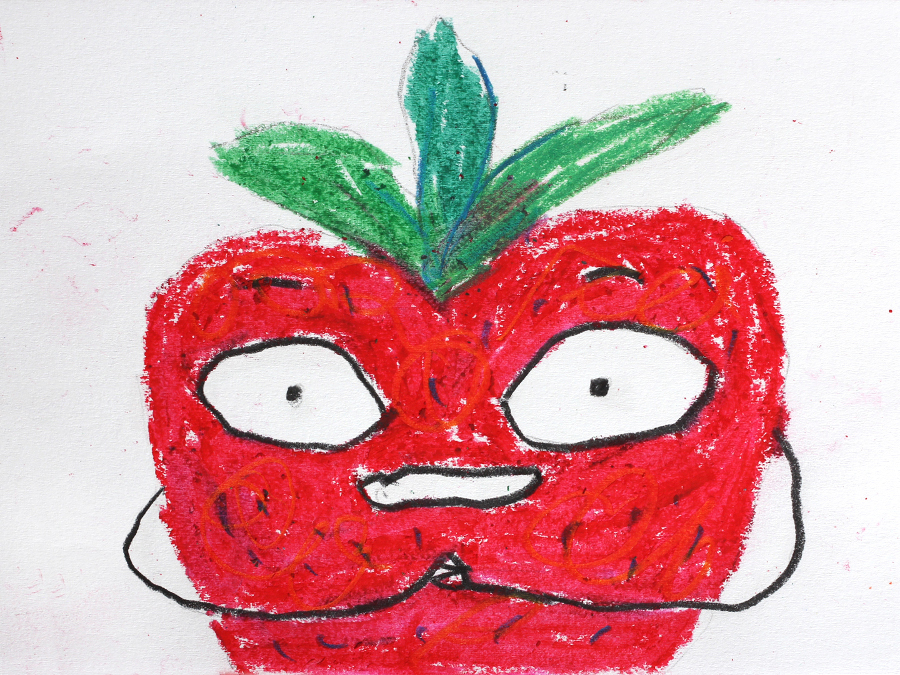 A longing for a strawberry becomes the subject of the Hungarian children band The Smelly Hamstergeccos, directed by Péter Vácz.
This psychedelic music video Strawberry (Eper) by Péter Vácz was created for the Hungarian children rock band The Smelly Hamstergeccos (2012-2016). The band was established by a 14 and 10-year old brother and sister. Their songs and lyrics are as intuitive and powerful as the best children drawings.  For the video,  Vácz  used colour crayon drawings to present the band's members and the song's hero, a strawberry.
A strawberry breaks my heart /  as he lies in his green bed / hiding away from me.
He doesn't want me, / he doesn't want my bite, / he who's a strawberry.
I'd like to reach him / but I can't.
A Sylvester and Tweety parable in saturated colors and upside-down environments, Strawberry proceeds with sweet-natured pace before it evolves into a good old (but kids friendly, and always visually arresting) animal hunting.
Here's some concept art and sketches from the film:

Péter Vácz is an award-winning animation director from Budapest, Hungary born in 1988. He graduated from MOME Moholy-Nagy University of Art and Design in Animation (Bachelor and Master) with his films called Streamschool and Rabbit and Deer which have earned him worldwide recognition and over 120 awards at international festivals in the past two years (Annecy, Cannes, Nashville, Atlanta...). Since 2015,  he is basedk in Budapest where he also teaches and lectures animation practice and theory beside his professional work.
CREDITS:
Directed and designed by: Péter Vácz
Band members: Fanni & Márk Csernovszky
Creative producer: Rita Domonyi
Producer: József Fülöp
Produced by: MOME Anim